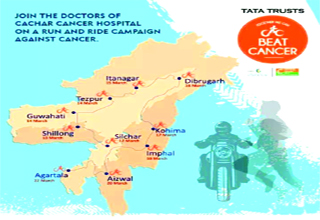 Run and Ride rally: campaign againt cancer
[ Nellie Manpoong ]
ITANAGAR, Mar 13: With some of the highest expenses incurred by cancer patients, the budget proposal to increase fund for free chemotherapy for APST patients from Rs 3 crore to Rs 5 crore and the renal care fund to provide relief up to Rs 10 lakh per patients will come as a huge relief to many.
The Chief Minister's Free Cancer Chemotherapy, launched in August 2017 at the Tertiary Cancer Centre of the Tomo Riba Institute of Health and Medical Sciences (TRIHMS), for APST patients had come as a huge relief as there are an estimated 2500-3000 cancer patients in Arunachal as per reported incident rates.
"This number is definitely going to increase", informed State Cancer Society of Arunachal Pradesh (SCSAP) nodal officer Dr S Tsering as he briefed on the ongoing mass awareness programme on cancer in the North East Region, the 'Run and Ride' rally.
Dr Tsering said that there is a need to create awareness so that cancer is detected early for early treatment and subsequent recovery.
According to the Population Based Registry, the North East region has the highest rate of age-adjusted cancer in India, with Aizawl in Mizoram at the top for males (249 per 100, 000), followed closely by Papum Pare in Arunachal Pradesh for females (249 per 100,000).
Dr Tsering informs that as of now, the basic three modalities of cancer treatment -surgery, chemotherapy and radiation therapy -are available at the TRIHMS.
"Under chemotherapy, we provide almost all the required drugs up to a ceiling of 10 lakhs per patient per annum", he said.
Till date, the hospital has registered 276 patients for therapy and given 1700 cycles of chemo.
In Arunachal, the rate of stomach cancer is the highest, followed by hepatic cancer (liver). Females registered high rates of breast cancer and cervical cancer, informed Dr Tsering.
"The increase in the budget will benefit a lot of patients. We see over 500 patients every year in our hospital and the number will increase as patients are starting to take treatment here rather than going outside. Many who do go outside, prefer getting treatment close to home", he said.
The budget also announced the provision for one thousand patients as the number of patients is expected to increase by next year.
The North-Eastern Region with a population of approximately 5 crores sees about 45,000 new cancer cases every year.
In a bid to create mass awareness on cancer in the North East Region (NER), the Tata Trusts, in collaboration with the National Cancer Grid and Cachar Cancer Hospital & Research Centre, Silchar is organising the Run and Ride campaign, which will cover seven North East states.
A 34-member team, with 18 bullet club members of the Silchar Thumpers and support staff, began their journey from Silchar on 12 March for the run and ride campaign on cancer.
The Silchar Thumpers, which has three doctors, left from Shillong on Tuesday and reached Guwahati and Tezpur, where they held interactive sessions on cancer awareness.
From the state, The Gliding Piranhas Motorcycle Club is expected to join the Silchar Thumpers at Hollongi before heading for the awareness programme at the TRIHMS in Naharlagun on 15 March.
An awareness walkathon of about 200 people, including students, NGOs and medical professionals, will also be held within Naharlagun Township on 15 March, following which, the riders will be given a send off for Dibrugarh.
The Silchar Thumpers will be part of a series of events, such as street plays, sensitization and educational talks, as well as stories of cancer patients. The riders will cover a total distance of over 2100 kms before heading back to Silchar on 21 March.
The riders will interact with people and organizations on the way – at small towns, villages and big cities across the North East states spreading awareness on cancer, risk factors, signs and symptoms, its preventive measures, research aspects and treatment modalities.
Dr Tsering was hopeful that such events would help spread awareness among people so that cancer can be detected in the early stages. He also informed that the SCSAP will hold more awareness programmes if funds are provided for the same.