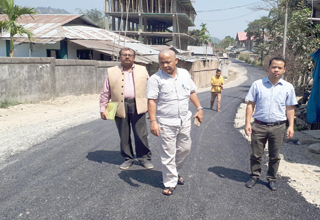 ITANAGAR, Mar 19: The re-carpeting of Jullang road (Papu Nallah to Chimpu & DPS to Ganga) started in the wee hours of Monday.
PWD Capital Division (B) Executive Engineer Tana Nekam, along with AE Ipe Bassar and other officials on Monday afternoon inspected the ongoing work which started from Chimpu village.
Nekam inform that work is going on in full swing but also added that everything depends on the weather condition.
"We were ready to start work from Sunday morning onwards but due to rainfall the condition was not conducive for carpeting," said the EE.
He also informed that in view of the ongoing four lane road construction between Itanagar and Papu Nallah, they have been entrusted to complete repairing cum re-carpeting of Jullang road before the onset of the monsoon.
"Construction of cross drainage and retaining wall has been completed. Seven culverts have also been constructed", he informed.
The total length of road from Papu Nallah to Chimpu is 12.3 KM and from DPS School to Ganga market is 2 KM. The repairing and re-carpeting of Jullang road has been taken up on priority by the state government as it is the only alternate road besides NH 415 for the people of Itanagar and Naharlagun.
Meanwhile, the PWD has appealed to the denizens of the twin capital city to cooperate with the ongoing carpeting works.