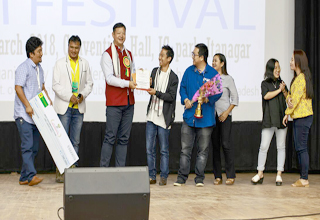 Ngok Miri Dekke Yoyo-Gaga Goktuanam Kiding wins best documentary category
ITANAGAR, Mar 24: The Ngok Miri Dekke Yoyo-Gaga Goktuanam Kiding (Those songs & lullabies I used to sing) walked away with the top honours in the 5th Arunachal Film Festival in the best documentary category.
Directed by Kombong Darang and produced by the Centre for Endangered Languages, Arunachal Institute of Tribal Studies, Rajiv Gandhi University, the documentary is on the dying Tangam language.
The makers were also awarded cash prize of Rs 1 lakh.
Orunasol Man, directed by Nyago Ete, emerged as winner in the best feature film category and won cash prize of Rs 2 lakh.
In the short film category of women empowerment, 'Vivid Discretion', directed by Joram Karan won first place. 'The Win', directed by Solomon Sanchoju and 'Never Give Up', directed by Nabam Sunil emerged second and third place winners and walked away with cash prize of Rs 1 lakh, Rs 75, 000 and Rs 50, 000 respectively.
Speaking at the valedictory function, Tourism Parliamentary Secretary P D Sona appealed to the directors and producers to keep making films on different genres in the near future.
Appreciating the endeavors and efforts of the filmmakers of the state, Sona said that the BJP government in the state would gradually develop all sections, including cinema.
"Movies are the largest medium of mass communication and helps us reach the unreached, which is why movies should be made responsibly," said Sona, while assuring his support to the film fraternity of the state.
Earlier, Film Federation of Arunachal (FFA) president, Chopa Cheda highlighted how several producers are unable to venture into the field after making a film or two as they fail to get the returns of their investment.
Extending his gratitude to the state government for its constant support to the state's film fraternity, Cheda also appealed to the government to look into former chief minister late Kalikho Pul's announcement to fund Rs 1.5 crore for the filmmakers during his tenure.
Pointing that lack of cinema halls in most parts of the state is also one reason why filmmakers are unable to grow, Cheda appealed to the state government to formulates a dedicated policy for the promotion and development of the film fraternity.
The 5th Arunachal Film Festival was held from 22 to 24 March at the Dorjee Khandu Memorial Convention Hall by the FFA, in collaboration with the department of Information and Public Relations.