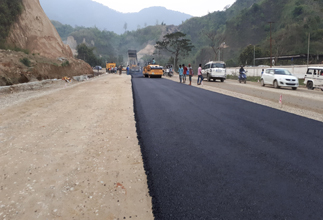 NAHARLAGUN, Mar 25: Much to the joy and relief of the people of the capital complex, the trial carpeting work on National Highway 415 began on Saturday at Papu Nallah.
Managing Director of TK Engineering, Techi Tara, while supervising the start of the carpeting work stated that work on the four-lane road is underway on a war footing. He informed that direction has been issued to the officials of the company to work devotedly for the construction of the four-lane road.
Executive Engineer (Highway) Capital Division, Nani Tath, who was also present on the occasion, said his team is closely monitoring the progress of works. He informed that TK Engineering has deployed sufficient manpower and machineries to expedite the work as per the direction of the state government.