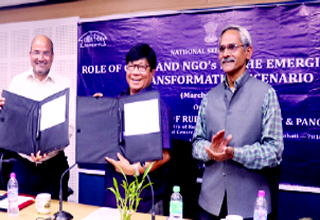 RONO HILLS, Mar 28: The two days national seminar on role of CBOs and NGOs in emerging rural transformation scenario concluded at RGU on Wednesday, where a Memorandum of Understanding (MoU) was inked between Rajiv Gandhi University (RGU) and National Institute of Rural Development & Panchayati Raj (NIRDPR-NERC).
The MoU was inked between the two institutes to promote mutual cooperation in educational and research activities, and to establish a framework for programmes of exchange and collaboration in areas of rural development, tourism and other areas of common interests.
On behalf of RGU, Registrar Prof Tomo Riba and from NIRDPR-NERC, Prof R M Pant signed the MoU in front of the participants and invited guests.
During the workshop, besides several research scholars, academicians, and officials representatives of NGOs and CBOs, like the Arunachal Pradesh Women Welfare Society, Garun Thuk, Eb Project Nature, etc presented papers and shared their experiences.
The national seminar was jointly organised by RGU and NIRDPR-NERC.