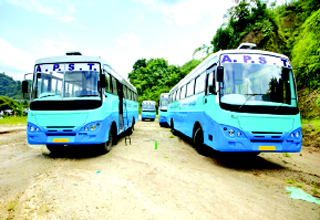 Staff Reporter
ITANAGAR, Apr 3: In a major contribution to the state exchequer in terms of revenue generation, the Arunachal Pradesh State Transport Service (APSTS) has earned a record revenue of Rs 19.43 crore, surpassing its own revenue target of Rs 18 crore.
"The highest ever revenue collection since 1975 by APSTS," said APSTS General Manager Abu Tayeng.
"The revenue earned in percentage is 108% against the actual revenue received is 103%," the GM said.
He added that the difference is due to "non-deposition of postal charges and hire charges by departments like police and the district administration during the current financial year."
Notable earners among the APST stations are: Itanagar (109%), Namsai (111%), Roing (147%), Miao (117%), Khonsa (116%), Tezu (130%), Seppa (117%), Bomdila (101%), Tawang (134%), and Yingkiong (209%).
The APSTS has seen a phenomenal rise in revenue collection in the last five years. Tayeng said the introduction of Tata Sumo taxi services and the new-age ultra buses has brought about a sea change in the department.
"Innovative ideas like e-ticketing and a mobile app brought national recognition in the form of a public transport excellence award," he said. He also said that decentralization of procurement at the district level meant quick solutions and better service.
The GM credited the success of the department in revenue generation to the untiring efforts of the field officers and teamwork.
He also thanked the chief minister, who also heads the department, the deputy chief minister, and Parliamentary Secretary Likha Saaya for their unstinted support and trust in him.