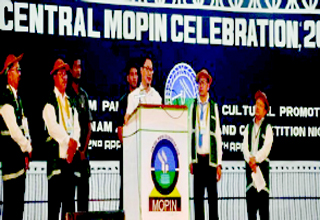 Cultural & sports competition mark Mopin extravaganza
ITANAGAR, Apr 4: Arunachal Pradesh Governor B.D. Mishra and Chief Minister Pema Khandu have both greeted the people of the state on the festive occasion of Mopin.
In his festival message, the Governor said that Mopin is observed to seek blessings of bounteous Goddess Ane Mopin, the Goddess of prosperity for bumper harvest, communal harmony and good health for all.
On this joyous occasion, I join my fellow citizens in offering prayers to Goddess Ane Mopin and seek blessings for each one of us, the Governor added.
Meanwhile, Chief Minister Pema Khandu in his festival message said, "I wish my Galo brothers and sisters on the joyous occasion of Mopin that marks the beginning of the spring season, a symbol of peace and joy. I join you all on this joyous occasion with great zeal and enthusiasm."
While offering prayers to Ane Mopin for a prosperous life ahead, Khandu emphasized on the need to preserve the distinct cultural identity of the indigenous communities along with their respective languages. (PRO to Governor/CMO)
Meanwhile, Cultural and sports competition were held as part of a week-long Mopin cultural extravaganza which began at Mopin Solung ground in Itanagar from Monday last.
Addressing a gathering during the inaugural day of the programme, All Arunachal Pradesh Students' Union (AAPSU) president, Hawa Bagang said that festivals foster love, harmony, brotherhood and peace and urged the clan members to preserve their rich tradition and heritage.
The celebration is organized by the Mopin Festival Celebration Committee, Itanagar under the aegis of Mopin Preservation Society.
Culture should not take a back seat in the name of dev: Rijiju
AALO: Culture should not take a back seat in the name of development, said Union Minister of State for Home Rijiju.
"It is quite remarkable that festivals and festivities in this Himalayan state are at their usual best and have not dwindled in the name of development and modernity" said Rijiju while attending a cultural programme to mark Mopin at Gumin Kiin on Wednesday.
He also informed of the various developmental works worth rupees more than 100 crores from various pools of resources at Aalo town and its vicinity. He appealed to all to keep faith in Government.
Rijiju will be attending the Golden Jubilee Mopin Celebration at Kamba on Thursday. He will also attend Mopin celebrations at Tirbin and Baririjo, reports DIPRO.