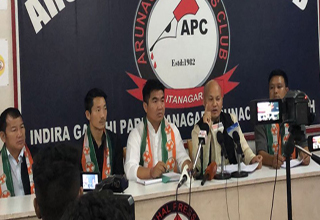 Staff Reporter
ITANAGAR, Apr 12: Strongly criticizing the Pema Khandu-led BJP government in the state for delaying the panchayat elections, the Arunachal Pradesh Youth Congress (APYC) on Thursday threatened to launch a series of democratic movements against the government.
Addressing media persons at the press club, APYC president Geli Ete accused the Pema Khandu government of delaying the panchayat elections – which are supposed to be held in May – "in the name of two-tier panchayat."
"This government is incompetent and unable to release funds for panchayat development; that is why this systematic plan is being played out. The chief minister and the panchayati raj minister should resign on moral grounds," Ete demanded.
The APYC submitted a memorandum to the governor, seeking his intervention for early notification of the panchayat elections. It further accused the state government of 'planning to put the panchayats to death because of selfish interests, in order to curtail grassroots democracy at the village level.'
It said the State Election Commission was supposed to issue the panchayat elections notification on 13 April, but that, after the State Assembly passed the bill on two-tier panchayat in the state, the bill is now awaiting the President's assent.
"Delaying the panchayat elections means curtailing the democratic rights of youths at the grassroots level," Ete said, and alleged that the state government was "indulging in delaying tactics on the pretext of working on modalities for the two-tier panchayat."
Joining the APYC in its protest over the issue, the anchal samiti member of Saku-Loglu-Moku in Lower Siang District, Zirgi Kadu, has submitted his resignation.