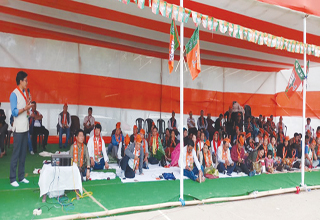 Staff Reporter
ITANAGAR, Apr 12: Members of the state BJP, led by state BJP president Tapir Gao and Deputy Chief Minister Chowna Mein observed an eight-hour (10 am to 5 pm) hunger strike at the tennis court near IG Park here on Thursday to protest against the disruption of Parliament by the Congress party and the its allies.
Addressing media persons, Gao said that, through the hunger strike, the party wanted to make the people aware of the Congress' strategies and "ill attitude."
"Disruption of business of Parliament by the Congress reveals the party's apprehension regarding the 2019 elections. It shows that it has accepted its defeat and is thus resorting to these tactics," he said.
Calling the Congress "anti-development and anti-people," Gao said that by not allowing Prime Minister Narendra Modi to speak in Parliament, the Congress deliberately tried to not let the Bill regarding the provision for OBCs and STs be passed by the Assembly.
He said the Congress party "should desist from indulging in such tactics and play the role of constructive opposition, which is a prerequisite for the development of democracy."
Our correspondent adds: Members of the party's East Siang, Upper Siang, Siang and West Siang district units also joined the party's nationwide hunger strike on Thursday.
In Pasighat, BJP workers and leaders staged a sit-in strike in front of the DC office till 5 pm.