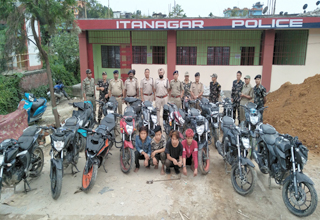 ITANAGAR, Apr 16: The police here recovered at least 16 stolen two-wheelers on Saturday after arresting four persons from Dony Colony (Jully road) on 9 April.
A police team led by SDPO Kamdam Sikom recovered the stolen two-wheelers from various parts of Seppa (East Kameng) and Itanagar.
The four persons were arrested in connection with two-wheeler theft cases, and it emerged during interrogation that they had lifted several two-wheelers from Itanagar and stored them in Seppa. Following this, the police team from Itanagar, with assistance from East Kameng DSP Ringu Ngupok and other police officers conducted raids at several locations in Itanagar and Seppa.
The two-wheelers were recovered from New Seppa, Lamdung, Sede, Bazar Line, Type-III Colony, Type-I Colony, Medical Line, and Vikash Colony in Seppa; from Abotani Colony and E Sector in Itanagar; and from 1 KTM in Tezpur, Assam.
Among the recovered two-wheelers were two KTM bikes, 10 Yamaha FZ bikes, one Super Splendour bike, one Bajaj Discovery bike, and two scooters – all together worth Rs 22 lakh.
The police here informed that they have so far solved 15 motorcycle theft cases. The SDPO said more members of the arrested gang will be arrested soon.