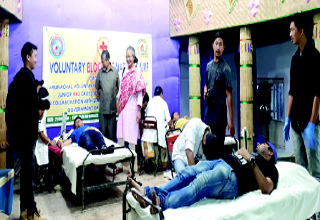 Youths urged to donate blood
ITANAGAR, Apr 21: All India Mahila Congress general secretary Jarjum Ete on Saturday urged youths of the state to donate blood to ensure its availability at any time.
She was addressing students of NIT and RGU during a blood donation camp organized by the Arunachal Voluntary Blood Donors Organisation, in association with the Junior Red Cross Society and the State Blood Transfusion Council, at Vivekananda Hall here.
Arunachal Vivekananda Yuva Shakti chairman Ramesh Jeke informed that the maximum units of blood are required in the capital complex.
He said there are about 42 cancer patients on chemotherapy who need blood, besides several others who need it during operation.
Forty-two units of blood were collected during the camp.