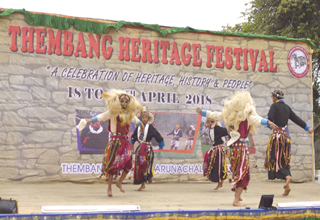 THEMBANG, Apr 22: The people of Thembang village in West Kameng district celebrated their three-day cultural and heritage festival from 18 April.
The main objectives of the festival were to rejuvenate the age-old traditional games and sports, folk dances, cuisines, and the essence of everyday life in the heritage village, which has been short-listed by the UNESCO in its tentative list of World Heritage Sites.
Brig Pratap Singh of the 5th Mount Brigade and Commandant S Subrimanium of the 30th Bn SSB attended the inaugural function, while Dirang ADC Dagbom Riba and 4th ITBP Commandant Pankaj attended the second day of the celebration.
Performances by cultural troupes from Bhutan, Kalaktang and fringe villages added colour to the festival.
Parliamentary Secretary Kumsi Sidisow, who attended the closing ceremony, applauded the efforts of the villagers to uphold their traditional values.
Former minister DK Thongdok and Brigadier Manish Luthra also attended the closing function.
Members of neighboring tribes like Sherdukpen, Hrusso Aka and Talung Zongpen also attended the festival.