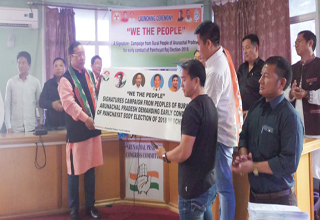 Staff Reporter
ITANAGAR, Apr 23: The Arunachal Pradesh Congress Committee (APCC) on Monday launched its signature campaign, 'We the people', demanding early conduct of panchayat elections in the state.
The first person to put his signature for the campaign, APCC president Takam Sanjoy said the Congress had to take the initiative after the governor failed to respond to its memorandum, submitted on 11 April, seeking timely panchayat elections.
Accusing the state BJP of sabotaging the panchayat elections, Sanjoy said the "consequential amendment" to turn the panchayati raj system from three-tier to two-tier cannot be an excuse for the delay.
"Amendment cannot be an excuse. It does not take six months or a year to change the three-tier system to two-tier," asserted Sanjoy.
Citing the 73rd Amendment Act of 1992, the APCC chief highlighted that the panchayat bodies have to be dissolved after completion of five years and not a day longer. However, it is also mandatory to have panchayat bodies, so that there is no interruption in the flow of funds from the Centre, he said.
"Every five years, the Finance Commission earmarks a budget of at least Rs 100-120 crore through local elected bodies, but if there are no local elected bodies then there will be a delay in funds," he informed.
Terming the state government "anti-people" and anti-development", Sanjoy said, "This government does not know how to govern."
The Congress is seeking a white paper on the reasons for the delay, saying the government is also responsible for earmarking the budget for election expenses, following which the State Election Commission conducts the election process.
It said the signature campaign will be held at village and block levels through the Congress' frontal wings across the state. The party will then meet with the governor again for consideration of the demand of the state's people.
Sanjoy also called out on the Centre's ordinance to introduce capital punishment for rape of children below 12 years and said "the punishment for rape should be same for all, irrespective of the age of the victim."
He exhorted the women wing of the party to take out "a strong movement" demanding capital punishment for all rapists.
On the new exorbitant land revenues, the APCC chief said even rich people would not be able to pay the skyrocketing revenues to the government.
"The government is trying to empty everyone's pocket through its policies, instead of easing their burdens," Sanjoy said, adding that the Congress would fight against such "bizarre policies" in the interest of the people of the state.