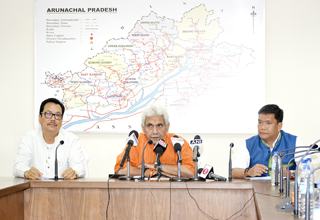 ITANAGAR, Apr 26: The Centre has approved a comprehensive strategy to implement BharatNet in the Northeast Region (NER).
Under this, all the uncovered gram panchayats (GP) in the Northeast are to be connected by broadband. Altogether 4989 GPs in six states – Arunachal Pradesh, Meghalaya, Mizoram, Nagaland, Manipur and Tripura – will be linked through broadband connectivity on satellite media by December 2018. The estimated cost of the satellite connectivity to these GPs is Rs 733 crore.
This was disclosed at a review meeting held here on Thursday to discuss implementation of BharaNet and other major telecom projects in the NER, which was attended by Union MoS for Communications (in-charge) Manoj Sinha.
Under the Comprehensive Telecom Development Project for NER, 6994 towers are to be set up to provide connectivity to 8621 villages and along the national highways, at a cost of Rs 5336 crore. An MoU has been signed between BSNL and the USO Fund to set up 2817 mobile towers in Arunachal Pradesh and two districts of Assam, while the work of setting up 2004 towers in six states was already initiated by Bharti Airtel in December 2017 and will be completed in 18 months.
The union minister said the NER is accorded the highest priority by the Centre "as is evident from these projects with a total outlay of more than Rs 10,500 crore." He requested Arunachal to provide full support for providing suitable sites for towers, along with RoW facilitation, in order to overcome the shortcomings of telecom connectivity.
"Despite connectivity bottlenecks and numerous challenges the state continues to face, it has aggressively proved itself by successfully launching significant IT and e-governance projects," Chief Minister Pema Khandu, who also attended the meeting, said.
"Many projects of importance, which varies from education to health, agriculture to cabinet, capacity building to connectivity, are in the pipeline," he added.
The CM assured to work with the telecom department in fast-tracking digital connectivity projects in the state.
The event also marked the launch of mobile connectivity to unconnected villages in the NE region; launch of satellite connectivity to GPs under BharatNet; and unveiling of vision document of Ashtamangal Phase-II.
The union minister also handed over satellite phones to the CM for effective and efficient monitoring of activities during natural catastrophes or other eventualities.