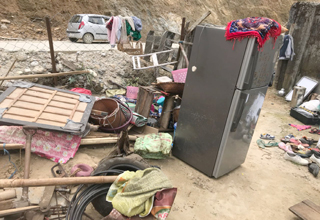 Staff Reporter
ITANAGAR, Apr 26: Hundreds of houses have been damaged by the powerful storm that blew across the capital complex and adjacent areas on Wednesday evening.
The storm disrupted power lines and plunged Itanagar and Naharlagun into an electricity blackout, besides damaging water supply lines. There were also reports of fallen trees blocking roads in several places.
However, no casualty has been reported so far.
After assessing the situation, the capital complex district administration (DA) reported that 348 houses have been partially damaged by the storm and 106 houses were completely damaged.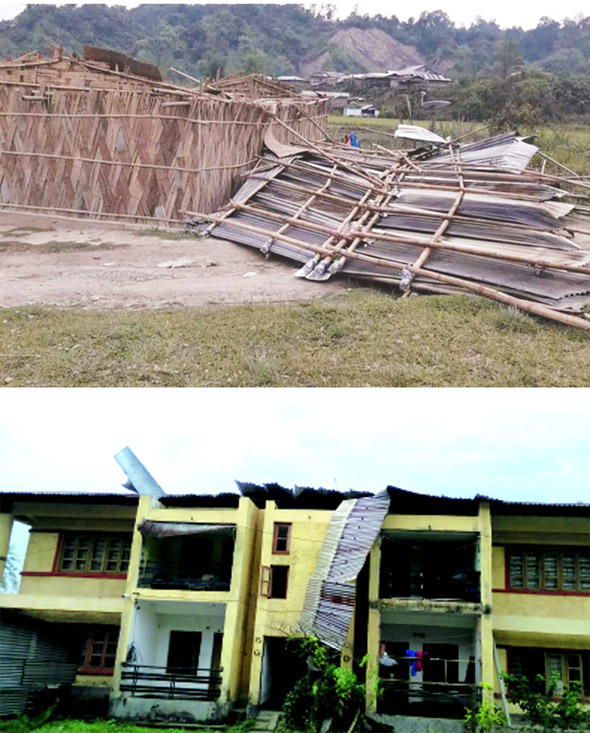 DDMO Moromi Dodum Sonam informed that power supply in the capital complex has been disrupted after four electric poles were damaged.
The roofs of the staff quarters and the administrative block of the Rajiv Gandhi Govt Polytechnic (RGGP) were also damaged, she said.
The DDMO said relief items would be distributed once the official modalities are completed.
Deputy Commissioner Prince Dhawan has urged the denizens to remain calm and prepared for any kind of eventuality. He reiterated his request to people residing in low-lying areas near river banks and landslide-prone areas to evacuate immediately to safer places.
Dhawan also requested the people to stay indoors during thunderstorms or cyclones.
The DA has provided the numbers of the emergency operating centre – 8787336331 (DDMO) and 8794765727 (FO) – to be contacted in case of any exigency.
The magnitude of destruction was apparently greater in Banderdewa and its adjoining areas, as more than 334 houses were reportedly damaged there, with 96 houses among them suffering total damage.
Four houses were damaged by fallen trees in Banderdewa area, and the storm also damaged the boys' hostel of the school in Durpang, the Banderdewa circle officer informed.
Detailed report from Naharlagun area was awaited at the time of filing this report.
RGGP in ruins
The devastation at the RGGP – the lone government-run technical institute in the capital – has been terrible, with several lecturers' quarters damaged, forcing the occupants to vacate.
The institute had been similarly damaged when a storm had lashed Itanagar on 29 March. Unfortunately, the state government did not provide any fund for repairing the damages.
"The girls' hostel, the lecturers' quarters and the academic block were badly damaged during the last storm. The situation has been worsened by Wednesday's storm, but so far we have not received any help from anywhere. We are still pinning our hopes on the government," said a lecturer of the institute.
Relief contributed
Meanwhile, state BJP vice president Tame Phassang visited storm-affected people in Tarajuly village, Papu Nallah, Donyi Colony (Itanagar), and Gohpur.
Phassang contributed some cash amount as immediate relief and packed water to the affected families.
Speaking to the families in Tarajuly, Phassang assured to carry forward the message to the state government regarding losses that occurred due to the storm. He also urged the deputy commissioner and the department concerned to visit Tarajuly to make proper assessment on all the losses as well as to provide adequate compensation to the victims.
Further, Phassang appealed to Chief Minister Pema Khandu to direct the department concerned to be extra cautious during such calamities and to give preference to the remote areas.
He also visited the house of Langfu Tayak in Gohpur, whose house reportedly was burned due to short-circuit during the storm. (With DIPRO input)