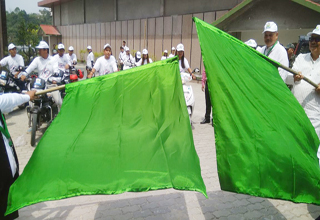 ITANAGAR, Apr 26: Deputy Chief Minister Chowna Mein lauded the health department for its efforts in bringing down malaria cases from 6,398 in 2013 to 1,540 (with zero deaths) in 2017, and urged the department to commit itself to eliminate malaria from the state by 2025.
Addressing a three-day Northeast regional review meeting on the Intensified Malaria Control Project-3 and the Intensified Malaria Elimination Project – after flagging off 17 two-wheelers under the National Vector-Borne Disease Control Programme (NVBDCP) from the premises of a hotel here on Thursday – Mein said the state government would provide financial assistance to the health department to enable it to achieve the target.
The DCM advocated rational deployment and judicious utilization of manpower created under the NVBDCP, and involvement of local communities and PRI members to achieve the objectives.
"The union health & family welfare ministry's sanctioning of Rs 3.73 crore for construction of the zonal malaria office-cum-training centre in Kimin and providing 120 sophisticated microscopes under the global fund to the state will help upgrade the health status of the state," Mein said.
Citing the difficulties in carrying out activities under the NVBDCP in hilly terrains and far-flung villages, the DCM informed the representatives of the NVBDCP directorate present at the meeting that the state government needs more two-wheelers, microscopes and "modernized laboratories where G6PD deficiency diagnosis and other sophisticated tests can be performed."
He also spoke of the need to review and enhance the incentives of the ASHAs in order to keep them motivated to carry out activities related to vaccination, disease eradication and health awareness programmes in the far-flung areas.
NVBDCP Additional Director Dr Avdesh Kumar said that the performance of the Northeastern states has been remarkable so far, and that the malaria control rate is two times faster in the Northeastern states than the rest of India.
Senior Regional Director Dr Partho Jyoti Gogoi, state Health & Family Welfare Special Secretary Tapasya Raghav, Health Services Director Dr M Lego, Health & Family Welfare Director Dr K Lego and NVBDCP State Programme Officer Dr A Yirang also spoke.
Among others, Planning Parliamentary Secretary Chau Zingnu Namchoom, TRIHMS Director Dr Moji Jini, regional directors and programme officers from other NE states attended the meeting.