Staff Reporter
ITANAGAR, Apr 28: Marking the state's foothold in the most prestigious competitive examination of the country, four Arunachalees have successfully cracked the Union Public Service Commission Examination, 2017.
The achievers are Masanda Magdalin Pertin (who has been placed in the 443rd rank), Phurpa Tsering (561), Dr Ojing Dameng (644), and Duyu Kampu (777).
Twenty-seven-year old Masanda Magdalin Pertin is the daughter of senior advocate Muk Pertin from Pasighat in East Siang district. Her mother Milonti Pertin is a teacher. Pertin cracked the UPSC exam in her second attempt, in political science and international relations. She is a Phd scholar from Jawaharlal Nehru University (JNU), New Delhi.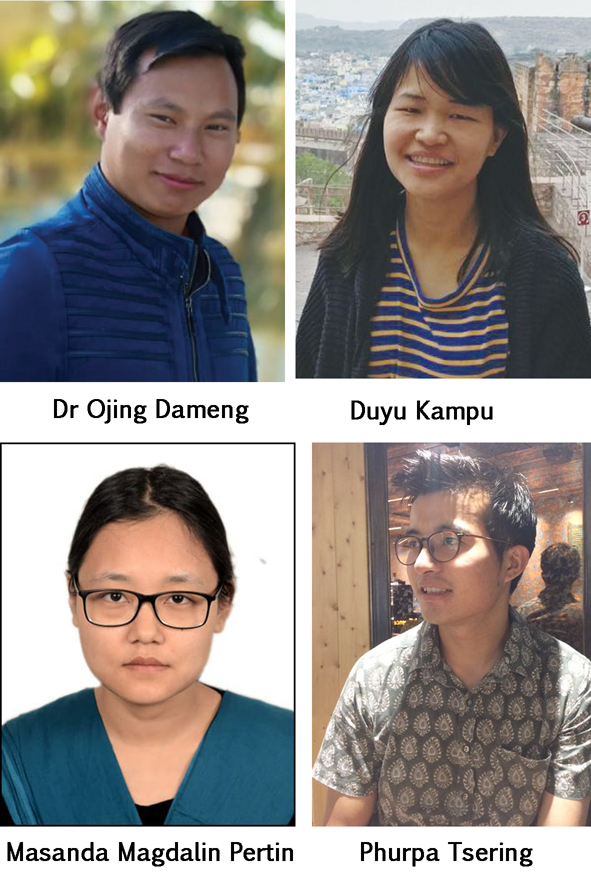 Sharing her experiences of preparing for India's toughest competitive examination, Pertin said that time management was extremely crucial for her during the preparation for the UPSC exam, as she had also been enrolled for Phd.
She credited her success to her friends and family members, terming them her "support system" for giving her emotional strength throughout the process.
"There is no alternative to good old fashioned hard work. It is not easy but it is simple," she said.
Duyu Kampu (27) of Ziro, Lower Subansiri district, had already cleared the UPSC exam twice, in 2015 and 2016, in geography. She is currently undergoing training at the National Academy of Defence Financial Management in Pune as Indian Defence Accounts Service probationer.
In 2016, Kampu got 1034th rank and in 2017 it was 1000 plus rank. She attributed her success to patience, hard work and perseverance.
Phurpa Tsering is a native of Bomdila in West Kameng district. He cracked the UPSC exam in his second attempt. Tsering is also pursuing MPhil in JNU, New Delhi, in the political science department.
Dr Ojing Dameng cracked the exam in his maiden attempt, in medical science (optional paper). A native of Millang village in Upper Siang district, Dr Dameng did his MBBS from JIPMER, Pondicherry, in 2015. He had topped the APPSC medical officer examination in 2016 and was posted at the community health centre in Mahadevpur in Namsai district.
Congratulations pour in
Chief Minister Pema Khandu on Saturday congratulated the quartet from the state for cracking the UPSC Civil Services Examination, 2017.
In a message, the chief minister expressed hope that their success would motivate other youths in the state to take the country's prestigious examination in right earnest.
He advised the achievers to discharge their duties "with utmost dedication, sincerity and discipline," and offered his best wishes for all their future endeavors.
The All Arunachal Pradesh Students' Union (AAPSU) in a message said the success of the four candidates would become a source of inspiration for the younger generation to take the civil service examination sincerely.
"They must emulate the hard work, sacrifices and struggle the four candidates have put in while chasing their dream," the AAPSU said.
The Arunachal Pradesh Congress Committee (APCC) also celebrated the success of the candidates in the country's top competitive examination.
"This is a sign of a new paradigm, where students from Arunachal are achieving the feat," APCC president Takam Sanjoy said in a message.
"Their success would encourage and inspire other youths of the state. They have set an example for others from our state to follow," Sanjoy said, and wished the achievers all success in their future endeavours.