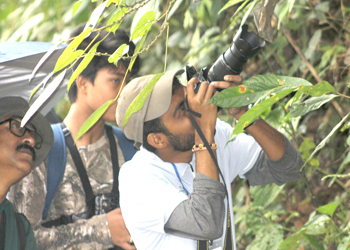 MIAO, Apr 29: The Society for Education and Environmental Development began its first four-day butterfly meet in an effort to discover new species of butterflies in one of the largest national parks in India, Namdapha National Park, from 27 April.
Chief organizer of the event, Minom Pertin highlighted how Namdapha is the third largest national park in India in terms of area but many are unaware of it.
"The objectives of the Namdapha Butterfly Meet – 2018 are to popularize this beautiful place located in the eastern Himalayan sub-region; to promote its rich biodiversity; and to discover new species of butterflies in this protected biodiversity hotspot," said Pertin.
Flagging off the four-day event, Miao ADC Tage Rumi appreciated the organisers for the steps they have taken to promote biodiversity "and for popularizing this Shangri-La in the eastern most corner of India."
Peter Smetacek, founder of Uttarakhand-based Butterfly Research Centre, addressed 55 enthusiasts from across India prior to the butterfly exploration.
"You have come to one of the most bio-diverse region of our country with a very strong possibility of discovering new species of butterflies," he told the participants.
The region is very rich in the Lepidoptera species. Both butterflies and moths are found in equal abundance here, along with a variety of other insects. As per the observations made during the national camp organised in October 2014 by the Bombay Natural History Society, several rare species of butterflies have been reported. These include the Koh-i-Noor, the Naga Treebrown, the Red Caliph, the Cruiser, the wizard, the Fluffy Tit, and the East Himalayan Purple Emperor.
The event comes to an end on 30 April, when butterfly enthusiasts of the first ever Namdapha Butterfly Meet will be given certificates of participation.
The Namdapha National Park is located in Changlang district of Arunachal Pradesh, near the international border with Myanmar. It spans an area of 1,985 kms, including a buffer zone of 177 kms and a core area of 1,808 kms.