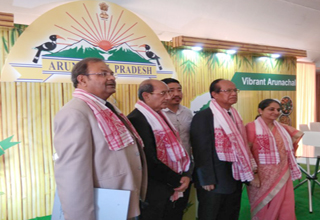 GUWAHATI, May 3: The state department of Agriculture is participating in the 'Vibrant North East 2018, which got underway at the Veterinary College Ground, Khanapara here on Thursday.
The theme of team Arunachal is 'Organic Arunachal; Vibrant Arunachal'.
Arunachal Pradesh Agriculture Marketing Board CEO Okit Palling is leading the team in the event.
The 'Vibrant North East' is an event to make people aware of central government's schemes and programmes.
PL Thanga, the member secretary of the state Planning Board of Mizoram inaugurated the exhibition stalls and interacted with the representatives of the respective states, PSUs, private players and other stakeholders.
Players from the agriculture, food processing, consumer affairs, civil supply, drinking water and sanitation sectors are participating in the three-day event.
The main purpose of the event is to disseminate information about the schemes, grants and projects of the central government to ensure that they are implemented as envisaged officially.
Organised by Delhi-based NGO, Centre for Agriculture and Rural Development (CARD), the 'Vibrant North East 2018' is supported by the North Eastern Council, department of Science and Technology, Ministry of Home Affairs, Ministry of Commerce and Industry and All India Farmers Alliance.