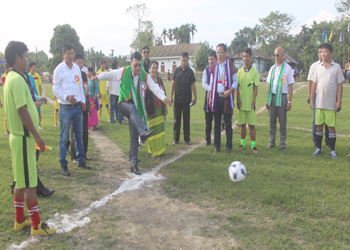 Correspondent
ROING, May 4: The IXth Gora Pertin Memorial Cup 2018 was inaugurated and kicked open by MLA 40 Maryang-Geku, Olom Panyang in the presence of the family members of late Gora Pertin, at the Kangkong general ground here on Friday.
The opening match was played between Dambuk FC and Rayang Special Khakee, in which Rayang SK won 1-0. The goal was scored by Sete Keche.
Panyang encouraged the players and urged them to maintain sportsmanship and team spirit during the tournament.
SP Roing Sanjay Kumar Sain also encouraged the participants and gave his best wishes. He urged the youth to refrain from drugs and to take up games and sports.
Further, Parliamentary Secretary WRD Gum Tayeng expressed her joy and appreciation towards the government for the completion of the Dibang Bridge. The Dambuk block that remained cut off from the rest of the country during the rainy season is now easily accessible because of the bridge, she said.
On the occassion, ZPM 8th Bukkong Starson Saring distributed 600 bamboo dustbins and bamboo brooms to the Nyamne SHG and the people of Bukkong area, to encourage cleanliness of the surroundings. This gesture was in honour of the upcoming Mother's Day celebration, said Saring.
The tournament is being organised by the Kangkong Football Association. Equipment and other assistance are being provided by the District Sports and Youth Affairs department of Lower Dibang Valley.
A total of 12 teams are participating in the tournament this year, and the finals will be played on the 27th of May.