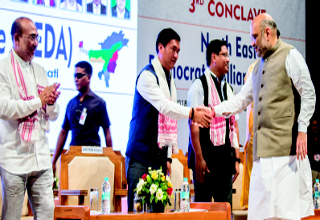 GUWAHATI (Assam), May 20: Arunachal Pradesh Chief Minister Pema Khandu said that the Northeast region is witnessing rapid development under Prime Minister Narendra Modi.
Attending the third conclave of the North East Democratic Alliance (NEDA), chaired by BJP national president Amit Shah, at the Srimanta Sankardeva Kalakshetra here on Sunday, Pema said, "Earlier, the Congress wasted our time by giving mere lip service to the Look East Policy. Now under PM Modi, the policy has been rechristened as Act East Policy, giving great thrust on improving connectivity for better prospect of trade links with Southeast Asia."
Under the NEDA, the Northeastern states, which were earlier confined to their own issues, have now started to reach out to each other by forging collaborations to solve common issues affecting the region, the CM said.
"Arunachal today is receiving enormous investments to improve road, rail, air and digital connectivity," Pema said, adding that under Modi's leadership, the state has seen the completion of six airports.
Urging all to carry forward the vision of the PM and the BJP national president, Pema said, "We all have a big responsibility to make fruits of development reach the last village."
He urged all to strengthen the hands of the prime minister, and to bring back the Modi government at the Centre in 2019. "It is rare that we get such good leader," said the CM.
The conclave was also attended by the chief ministers of Assam, Meghalaya, Manipur, Nagaland, and Tripura, apart from an MP who represented the chief minister of Sikkim. (CMO)
CM to board inaugural AA flight
Among other things, the chief minister informed that he will be on board the first commercial flight of Alliance Air (AA) between Guwahati and Pasighat on 21 May.
"It will be a proud moment for all of us and a remarkable step in the history of India's aviation sector," he said.
The flight operation has been introduced under the UDAAN scheme. Alliance Air will fly to and fro thrice a week on the Kolkata-Guwahati-Pasighat route.