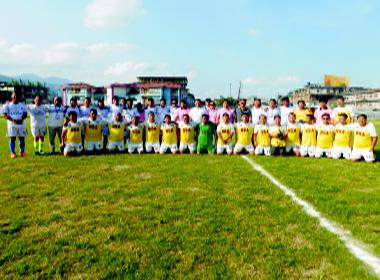 NAHARLAGUN, Jun 3: The Dree Football Tournament 2018 got underway at Rajiv Gandhi Stadium here on Sunday.
The opening match was played in the open category between Nyime Yaru FC (NYFC) and Myodi Azing FC (MAFC), and the match ended in a 1-1 draw.
Dani Sambyo and Hage Tadu scored the goals for NYFC and MAFC.
In another match, in the senior category (above 35 years), Bumer Sports Association (BSA) defeated Ball Tula FC (BTFC) 3-1.
Michi Takung, Duyu Aago and Koj Tatung of BSA scored a goal each for the winning team while the consolation goal for Ball Tula team was scored by Dusu Tagyung.
The tournament is being organized as part of the Dree festival.
Earlier, the tournament was declared open by Arunachal Pradesh Football Association general secretary Kipa Ajay.
In his brief speech, Ajay expressed hope that the event would provide a good opportunity to budding players to show their talents. He assured all possible help from the APFA in organizing the tournament in the coming years.
Capital Complex Dree Festival Celebration Committee 2018 is the organizer of the event.