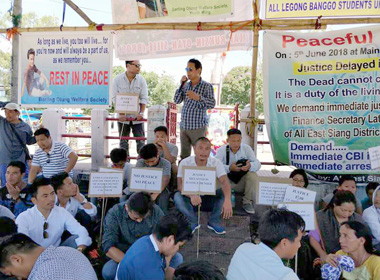 Correspondent
PASIGHAT, Jun 5: Hundreds of protesters including representatives of the All Arunachal Pradesh Students' Union, the All East Siang District Students' Union (AESDSU), Banggo student unions, and community-based organizations staged a sit-in demonstration here on Tuesday to protest the state government's alleged failure in solving the Ojing Taying murder case.
As per their allegation, the investigating agency is yet to make any breakthrough in the alleged murder case, causing strong discontent among the victim's family and community members.
The case, which was earlier taken up by the police in Itanagar, was handed over to the Special Investigation Team (SIT) on 27 April last year. The student unions and community organizations are now seeking a CBI inquiry to unearth the facts.
Taying, former finance secretary of the AESDSU, along with two friends were brutally attacked by unidentified youths in Itanagar on the night of 10 June last year. Owing to head injuries, Ojing was rushed to GNRC Hospital in Guwahati, where he succumbed to injuries on 19 June, 2017. Since then, the case remains a mystery as the investigating officers have failed to make any headway till date.
Meanwhile, the Boriing Olung Welfare Society has appealed to Home Minister Kumar Waii and home department officials to immediately transfer the Ojing Taying murder case to the CBI, citing minimal progress in the investigation by the SIT.
Expressing deep sorrow over the inordinate delay in cracking the case, Taying's father, Jiten Taying said no breakthrough has been made in his son's murder case even after top ranking police officers gave repeated assurances to solve it within a short period.
Jiten Taying alleged "willful negligence" on the part of the investigating officer as the cause for the inordinate delay.
"I am pained with the fact that even after the passage of 11 months the investigation agency is yet to make any headway in the case. The police should have looked at every possible angle to nab the culprit, which they have not done so far," he said.