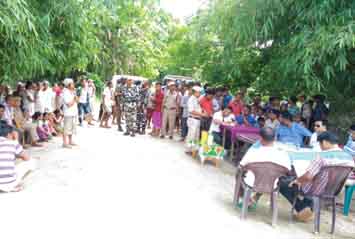 Staff Reporter
ITANAGAR, Jun 7: Hectic parleys started at the local level on Thursday between the people of Lower Siang district of Arunachal Pradesh and Dhemaji district of Assam to defuse the tension along the interstate boundary in Hime village.
The tension occurred as a result of Assam-based contractors and villagers attempting to forcibly build a road on wet rice cultivation (WRC) land in Hime village. The road had been sanctioned under the Mising Autonomous Council (MAC).
Representatives of the MAC and villagers of Hime and Gnopi in Kangku circle attended the meeting, which was held at Saamguria village in Gogamukh circle of Dhemaji district.
Both sides reportedly stressed on restoring peace and communal harmony along the boundary. However, it was reported that they were unable to arrive at a logical solution.
Sources informed that the next round of parleys is likely to be held at Hime on Friday. Earlier, the Assam side halted the construction to facilitate peaceful discussions over the disputed land.
The situation was volatile till yesterday after the villagers from the Assam side, with protection from paramilitary personnel, forcibly carried out road construction work on the WRC land in Hime.
Both sides have since deployed paramilitary forces to the area as a preventive measure to instill peace along the boundary. The Arunachal government has deployed two platoons of IRBn in Hime, after the report on the tension appeared in this daily.
Union Minister of State for Home Kiren Rijiju late today appealed to the people of both the states residing along the boundary to maintain peace and resolve the issue amicably.
Rijiju also appealed to the media not to flare up the issue without authentic information.
"If any individual and contractor creating tension between the two states is not acceptable, the administrations of both districts should resolve it amicably," said Rijiju.
He added that whoever wants to carry out work along the interstate boundary should first seek permission from the respective district administration, and that no individual contractor should create tensions between the two states.