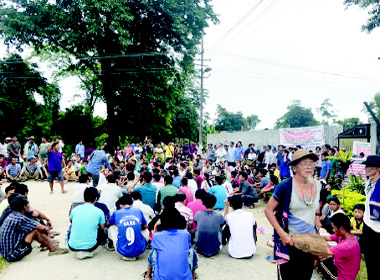 [ Tongam Rina ]
ITANAGAR, Jun 12: Villagers from Dollungmukh circle in Kamle district on Tuesday took out a protest march, demanding shifting of the Indian Air Force (IAF) base from the area.
Under the banner of the Dollungmukh Area Welfare Forum (DAWF), the protest rally reached the IAF base with the main demand that IAF drills, which include live bombing, are stopped immediately, and the firing/target range shifted out.
"We sat in dharna for more than an hour just outside the air force base, but none of the personnel came out to meet us," said DAWF president Rotum Tebin.
He said people in Dollungmukh live in constant fear, more so during live bombings, as the vibrations caused by the drills literally shake the earth. Humans and animals have been injured or killed during live bombings, he said.
On 8 June, a man was seriously injured when an IAF fighter plane dropped a bomb during one of its regular drills over Ruyu village in Dollungmukh circle.
The injured, identified as Bini Todum, a retired SSB jawan, was at his home in Ruyu, which is outside the demarcated bombing range of the IAF, when the bomb struck, injuring him and damaging his home.
Earlier, four mithuns had been killed by IAF bombings, and in response the angry villagers had buried the dead mithuns near the IAF base.
The people of the area are caught in a difficult situation as the area lies in between Assam and Arunachal. Most part of the area falls under the Lakhimpur forest division, Assam; therefore permission for the drills is sought from the government of Assam and not Arunachal.
According to the records, the villagers leased the area to the IAF for a period of 50 years, by an agreement which was signed 43 years ago.
"People had no idea what it meant to sign that agreement. We want that agreement annulled," said Tebin.
The forum says that despite repeated requests to the government of Arunachal for shifting out the base, there has been no response.
The government of Arunachal has been contacted for comment.
Following the injury caused to Bini Todum by the latest round of bombings, representatives of the DAWF met IAF officials, after which the IAF is reported to have constituted a court of inquiry.
Despite repeated attempts, the IAF could not be contacted for comment.