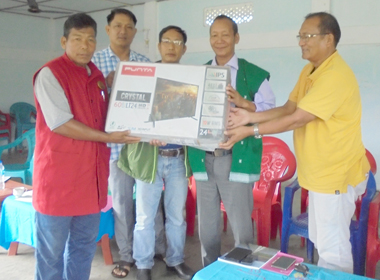 [ Prafulla Kaman ]
NARI-KOYU, Jun 15: The Chief Minister's Rural Information Scheme (CMRIS) was launched at Korang village here in Lower Siang district on Friday with the distribution of TV sets among 12 goan burahs (GBs) of five villages under Kora circle.
"The Pema Khandu-led state government has launched the scheme to keep the gaon burahs and village leaders updated on the developmental initiatives of the central and state governments through TV news," said Nari Koyu MLA Kento Rina after distributing the TV sets.
He urged the GBs to work for the development of the state.
The MLA informed that Rs 2 crore was sanctioned under the state infrastructure development fund (SIDF) last year for the development of the 16-km Korang-Maane PWD road. A proposal for additional fund of Rs 50 lakh has been submitted to the state government to complete the road construction, he said.
The local MLA also assured to provide assistance from his MLALAD fund for construction/improvement of various rural link roads.
Senior public leader Kojum Koyu asked the villagers to work for the development of the community by brushing aside political differences.
BJP leader Rari Riba urged the GBs to maintain closer contact with the local administration, while former Koyu anchal chairperson Pakyor Koyu advised the leaders to inform the MLA about their problems.
Present at the function were, among others, Kora CO (in-charge) Ocean Gao, HGB Karbak Riba, and other gaon burahs.