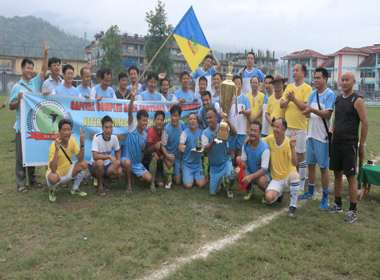 Hello FC and Senior FC are champions in open and senior category
NAHARLAGUN, Jun 15: Hello FC became the champion in the open category of the Capital Complex Dree Football Tournament-2018.
The team defeated Generation FC by a solitary goal in the final here on Friday.
Both the teams started off on an attacking note and pressed hard to take the lead but remained goalless till the end of the first half.
Punyo Talin of Hello FC, who scored the all-important goal in the dying minutes, was declared man of the match.
In the senior category, Senior FC overcame a stiff challenge from Bummer Sporting Association to beat the team 3-2 and become champion.
Hage Tapu, Misso Lailyang and Tanyang Tada scored a goal each for the winning team.
Bummer Sporting Association made all-out efforts to restore the parity, and in the process, Koj Tatung pulled two goals back.
Both the teams displayed some exciting football from the very beginning till the end.
An exhibition match was also played between the Capital Complex Dree Festival Celebration Committee (CCDFCC) and Dree Ground Management Committee (DGMC), which was won by the latter 2-0.
Byabang Tugu of DGMC was declared man of the match.
Later, members of celebration committee distributed the prizes to the players and the teams.
Hage Takang (Hello FC) and Legang Bungu and Habung Rabin (Sports Generation FC) bagged the best goalkeeper, highest scorer and player of the tournament awards, respectively.
Nyime Yaru FC was adjudged the best disciplined team.
In the senior category, Koj Tatung of Bummer Sporting Association became the highest scorer with 7 goals in his kitty.
Michi Hana and Hibu Novin bagged the prizes as best goalkeeper and best player, respectively.