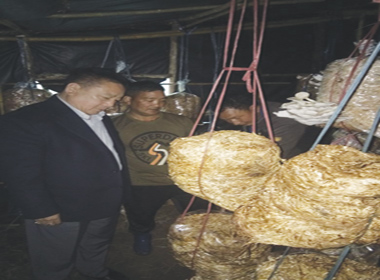 BOMDILA, Jun 16: Local MLA Japu Deru visited the organic mushroom production site in Pedung village, four kms from here, on 15 June. There he met the 'Mushroom Man of West Kameng District', Tsering Tashi, and assured to provide him with assistance in upgrading his mushroom farm.
Tashi retired from the army in 2014, and began organic mushroom farming in September 2017. He cultivates three kgs of mushroom every day and earns approximately Rs 250/kg.
Tashi has so far cultivated about 350 kgs of mushroom, and has spent Rs 2,50,000. He hopes to start cultivating 10 kgs of mushroom every day in the near future.
Deru lauded Tashi's hard work and assured to provide help from his MLALAD fund for his mushroom farm.
The MLA advised the people of West Kameng district and the state as a whole to draw inspiration from Tashi and engage in farming activities to be self-employed, instead of seeking contract works.