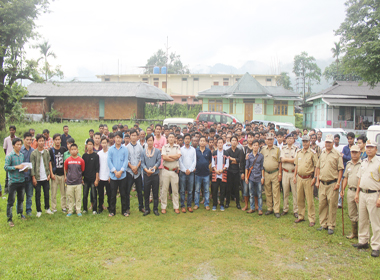 [ Karyir Riba ]
ROING, Jun 17: More than 150 defaulters were rounded up during an inner line permit (ILP) checking drive conducted by the All Idu-Mishmi Students' Union (AIMSU) in the market area here on Sunday.
Eighty-one outsiders residing in the market area were found to be without ILP, while 73 had not renewed their ILPs.
Most of the defaulters are reportedly shopkeepers with proper business setups in the market, with some setups dating back decades. Some of the ILPs were found to have expired nine to ten years back.
When the checking drive was underway, some of the shopkeepers who did not possess valid ILPs tried to flee from their shops. They were, however, assembled at the Central Rekho Hall in Cheta later, and were handed over to the police and the administration for further action.
"As per the Bengal Eastern Frontier Act, 1873, the offenders will be deported, fined, and can be imprisoned for a year," Inspector Abraham Taying said.
Koronu CO Olom Panggeng and Desali CO Hage Atho, who are handling the case, informed that all the 81 who are without ILPs will be sent out of the state after they have paid a fine of Rs 500 each. The 73 who have expired ILPs will be given a chance to renew their ILPs via their guarantors, and will remain in police custody till then.
AIMSU president Mapu Mihu said the union will conduct ILP checking drives on a regular basis.
"It is very important for safety reasons. There have been many incidences in the past wherein crimes have been committed by outsiders but they could not be traced because of lack of their personal information," said Mihu.