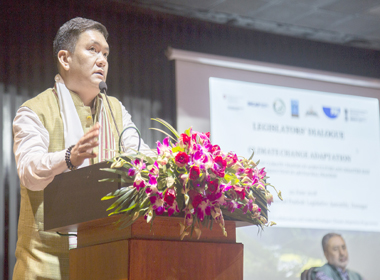 CM gives emphasis on mass awareness on crucial issue of climate change
ITANAGAR, Jun 22: The legislators' dialogue on the 'Implications of Climate Change on Agriculture and Disaster Risk Reduction' was conducted by Integrated Mountain Initiative (IMI) and Sustainable Development Forum Arunachal Pradesh (SDFA) in collaboration with Indian Himalayas Climate Adaptation Programme here on Friday
In his address, Chief Minister Pema Khandu emphasised the need to increase awareness amongst the local groups on the crucial issue of climate change. He also made mention of Paris Agreement which India is part of and one which encourages green energy.
Khandu expressed his concerns over increasing urbanisation and reduction in forest cover happening across the state. He assured everyone that CM advisory council which is under the formulation process would definitely comprise of an expert on Climate Change.
He further assured the gathering that recommendations of the dialogue will be made part of the upcoming State Action Plan and would be implemented in the near future.
Deputy CM Chowna Mein discussed new initiatives of the government which include CNG vehicles, production of bio-fuels from waste. He said the state government is dedicated to stop the complete use of fossil fuels. Appreciating the recommendations made by legislators during the round table discussions, he added that the government will work towards taking up feasible recommendations during the policy formulation.
Chief Secretary Satya Gopal cited the Legislators' Dialogue as the 3rd most important initiative by the present government to combat the issue of climate change and suggested the need to launch focused and customized policies and schemes.
Earlier, former Chief Secretary of Arunachal Pradesh and vice president of IMI Ramesh Negi spoke on the relevance of the climate change in the 21st century. He reflected on the importance of equitable distribution of resources while addressing issues of climate change.
IMI president Sushil Ramola said 'problem is global but the issues are local and they require urgent redressal.' He noted that solutions to address cross cutting issues within climate change such as agriculture and disaster risk reduction would require an understanding of ground realities. Furthermore, he emphasized on the importance of joint efforts of the IMI, SDFA and Arunachal Pradesh government to achieve the desired outcome.
Speaking on the impact of climate change on agriculture and disaster, GN Sinha, Advisor, Sustainable Development with Govt. of Arunachal Pradesh, highlighted redressal measures for issues such as Jhum cultivation while presenting the state's Sustainable Agriculture Mission. He emphasized on the need to sensitize the public, policy makers and planners on climate change.
Gomar Basar, assistant registrar of Rajiv Gandhi University presented the success story on spring and stream water rejuvenation at Soi Village, Basar under Lower Siang district.
Dr. Shirish Sinha, deputy head, Swiss Development Cooperation, in his address, urged state government to make Itanagar a climate resilient smart city. Citing example of hill cities like Shimla and Darjeeling which are struggling for drinking water, Sinha called upon state government to work towards conserving the water sources.
As part of the discussion, legislators and officers present were divided into ten groups to identify key problems within agriculture and disaster risk reduction in local constituencies, and suggest ways to combat the issues. Each group presented their findings and the session was summarized by PD Rai, Member of Parliament (Lok Sabha) Sikkim and IMI Councillor.
Rai mentioned that IMI along with other multilateral agencies can help Govt of Arunachal in building correct arguments for 15th Finance Commission. On promotion of bamboo, he emphasized that with the recent change in legislation, conditions should favour entrepreneurs to build their business around bamboos.
Session on Promotion of Bamboo in Arunachal Pradesh was also conducted during the day. Dr. LR Bhuyan from State Forest Research Institute, highlighted the characteristics, uses and species of bamboo found in the state. He also discussed the possible uses of bamboo. Rezina Mihu, Secretary SDFA, also spoke.
Integrated Mountain Initiative (IMI) is a platform for sustainable development by building on the collective knowledge, experience and energies of all stakeholders from in the Indian Himalayan Region (IHR) to find solutions for the complex problems, such as climate change, agriculture based livelihoods, sustainable urbanization and disaster risk reduction. It achieves this through support of people in all the 12 mountain states, organized as State Forums and State Chapters of IMI, providing the link on the ground.
Several legislators of the state including Speaker T Norbu Thongdok, ministers, parliamentary secretaries, bureaucrats and Members of Parliament attended the meet.