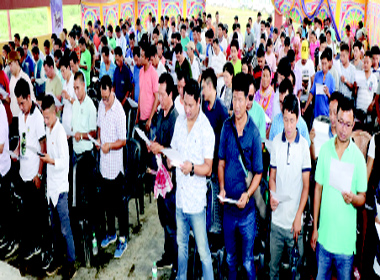 BASSARNALLO, Jun 23: Environment and Forest Minister Nabam Rebia has directed the district administration to seize all licensed firearms, which are misused for hunting and killing wild animals, and take legal action against those erring firearm license holders.
He also directed the administration to take action against those who are found involved in damaging the ecosystem.
Rebia was addressing a gathering of locals, gaon burahs and youths at Sangdupota on the occasion of a mass tree plantation and awareness programme organised by the All Bassarnallo Youth Association (ABYA) in collaboration with the Department of Environment, Forest and Climate Change, Banderdewa Forest Division.
Stating that water sources are under threat due to agriculture, construction activities and shifting cultivation, Rebia called upon the people to conserve water catchment areas, adding that "the third world war may be fought over water".
Meanwhile, responding to few public demands, Rebia assured to post range forest officer at Sangdupota within July.
Two forest watchers will also be engaged from the locality areas on contract/contingency basis, the minister said and directed the Banderdewa DFO to prepare estimate for construction of the RFO office, his/her residential quarter and a check post at Tadar Boding, etc immediately.
Highlighting the causes of global warming and its impacts, Principal Secretary and Principal Chief Conservator of Forest Omkar Singh advocated for conserving forest and planting more trees to reduce global warming.
PCCF (P&D) Dr Rabindra Kumar called upon the people to practice shifting cultivation without causing much destruction to forest cover. He encouraged the villagers to go for horticulture and other allied activities instead of jhum cultivation.
PCCF (Wildlife & Bio Diversity) Dr R Kemp called upon the community members to make changes in dietary pattern and refrain from killing wild animal for meat.
Additional PCCF RK Singh said the department will not tolerate any kind of wanton destruction of forests. He said the department is making all out efforts to sensitize the masses about the importance of protecting and conserving the forest and wildlife.
Banderdewa DFO Neelam Nido briefed about the plantation activities in within his forest jurisdiction. He said several such programmes will be carried out this year, for which he sought support and cooperation from the masses.
Rebia and others government officers and officials, who were present on the occasion, also took part in the plantation drive and planted over 1000 tree species.
The gathering also pledged to protect forest and wildlife to save the environment.
Senior government officers, departmental heads student leaders also participated in the plantation drive.