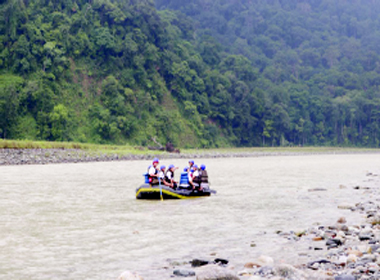 [ Indrajit Tingwa ]
MIAO, Jun 23: There is no doubt about huge tourism potential of Arunachal Pradesh. Amongst various forms of tourism, adventure tourism is one of the sectors which the state has the potential to its brim. In recent times, there has been steady development in adventure tourism. The government is according priority to adventure tourism, while interested parties are also trying their hands in this sector.
The eastern region of the state has been slower in realizing its tourism potentials. However, positive signs in that direction are being witnessed in recent times.
Miao based Miaopum Tours and Travels has taken a stride in that direction by organising the first ever white water river rafting on the Noa Dihing river on Saturday.
Noa Dihing river rafting expedition with two rafts – six-seater and eight-seater – was flagged off by Miao ADC Tage Rumi at Deban, located in the Namdapha National Park, in the morning hours.
The expedition team, consisting of first-timers, completed the 15-km long rafting journey within two hours at the Miao ferry ghat.
Earlier, addressing the gathering at the Deban Lodge, ADC Rumi termed the event historic and was optimistic that the expedition would help promote tourism sector in this region.
Proprietor of Miaopum Tours and Travels, Bella Tikhak briefed about the aims and objectives of organising such first of its kind event by her organization.
Joint Director of Youth Affairs Ramesh Linggi also spoke on the avenues for youths in the tourism sector and policies of the government in that regard.
The event was organised under the technical guidance of Department of Youth Affairs and conducted by the Dibang Adventures. A new journey with two rafts begins in this region, and hopefully it will continue to stay.