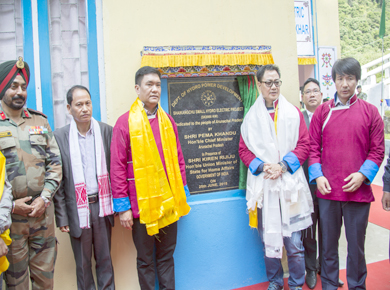 TAWANG, Jun 26: Chief Minister Pema Khandu on Monday inaugurated numerous important projects in Tawang, which may change the face of the district.
The chief minister inaugurated a bridge over Tawang-Chu River, which will provide an alternative connectivity between Tawang and Jang-Mukto constituencies.
The rural works department executed the construction of the bridge at the cost of Rs 2.14 crore.
He also inaugurated the 6MW Shaikangchu Small Hydroelectric Project at Gongkhar village in Mukto constituency.
"Shaikangchu SHEP is the biggest project undertaken by the department of Hydropower. It will supply electricity to 27 villages around Mukto circle and the surplus power generated will be supplied to Tawang headquarters," said Pema.
The SHEP was started in 2007 by former Chief Minister Dorjee Khandu.
"Tawang today has 14 hydel stations with total installed capacity of 11.41MW developed by the Hydropower department. With the commissioning of Shaikangchu SHEP, the power generating capacity will be increased to 17.41MW," he said.
Earlier, the chief minister inaugurated the district's second VKV School at Mukto village.
The school was earlier a government higher secondary school and has been handed over to the Vivekananda Kendra.
The chief minister said that the state government has passed a resolution in the cabinet allowing the private NGOs and missionaries working on education sector to be invited to take over government schools.
Stating that it took him about three years to bring this VKV, the chief minister informed that the state government has contributed Rs 40 crore as corpus fund for the VKV.
"The VKVs provide education based on cultural values so that the children can learn to reflect upon their culture, culture of others and culture in general," Union Minister of State for Home Affairs Kiren Rijiju, who accompanied the chief minister during the programmes, said.
Vivekananda Kendra Arunachal Pradesh Trust (VKAPT) Joint Secretary Rupesh Mathur highlighted the activities of the VKV alumni in strengthening the VKVs in Arunachal Pradesh.
The chief minister was also accompanied by Parliamentary Secretary (RWD) Jambey Tashi and Tawang MLA Tsering Tashi.
On Tuesday, the Chief Minister laid the foundation stone for a walk-through market here.
The project, which is one of its kind in Arunachal Pradesh, will be executed by PWD at the sanctioned cost of about Rs 18 crore.
The market concept was an idea brought by the chief minister himself, when he served as tourism minister.
The project will consist of facilities, such as shopping complex, food court, public utility services, parking, pathways, illuminations, children's park, amphitheatre, etc.
He also inspected the site for development of the walk-through market complex.
The chief minister also laid the foundation stone for development of Bhalukpong-Bomdila-Tawang tourism circuit under Swadesh Darshan scheme.
Later, he inaugurated the offices of the district medical officer and the chief engineer, PWD, North West Zone.