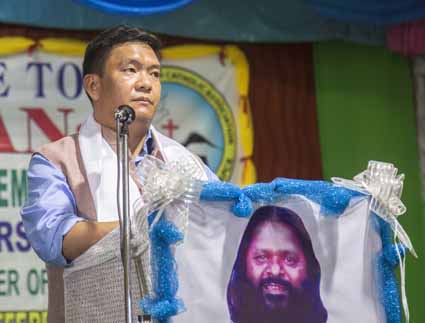 KARSINGSA, Jun 28: The Arunachal Pradesh Freedom of Religion (APFR) Act or the Anti-Conversion Law passed in 1978 will be brought before the next assembly session for its repeal, Chief Minister Pema Khandu said on Thursday.
Attending the 'Prem milan' function organised by the Arunachal Pradesh Catholic Association at the Holy Trinity Catholic Church here to pay tributes to Brother Prem Bhai, the chief minister said the anti-conversion law "could undermine secularism and is probably targeted towards Christians."
He assured to bring it up in the next assembly session for repeal, saying it could be otherwise misused by irresponsible officials.
"Any misuse of the law leading to torture of people could trigger large-scale violence in the state and could break Arunachal into pieces," said Pema.
---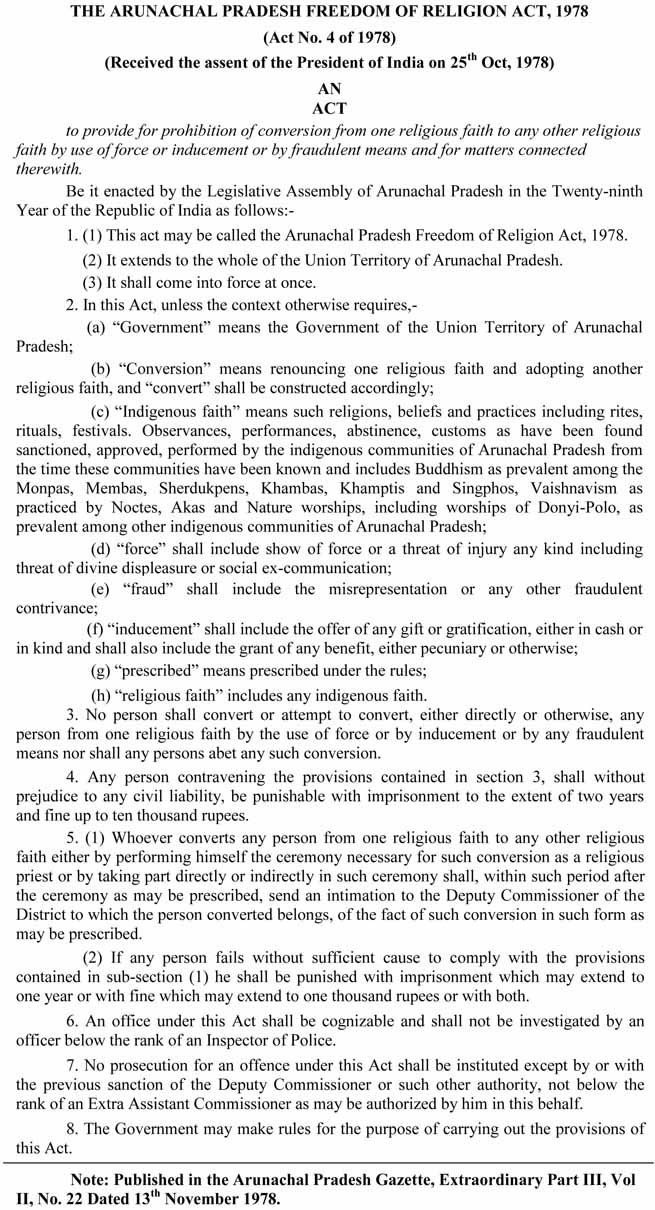 ---
The APFR Act, however, has never been ratified or implemented in the state. The act provides for "prohibition of conversion from one religious faith to any other religious faith by use of force or inducement or by fraudulent means and for matters connected therewith."
"Prem Bhai today commands respect not only in the Catholic community but across all denominations of the Christian society and also among different faiths," the CM said, and described Prem Bhai as "a saint who brought tremendous changes in the Nyishi society and contributed to the development of Arunachal with his 25 years of humanitarian service."
Acknowledging the contributions of the missionaries in the development of Arunachal, Pema said the state government is "ever ready to help organizations that can be of assistance towards uplifting people."
He also urged people to shun money culture in politics.
"Do not choose leaders who buy your vote," he said. "A leader who buys vote will never deliver but will try to earn back his money while in power."
He said such messages are best conveyed through religious leaders as people respect them for their high morality.
"If we politicians speak on money culture, people will interpret it politically," said Pema, and appealed to all religious leaders to pass on the message to stop money culture during polls.
He said the people should vote for leaders with good intentions, cutting across political lines.
"I am not saying that you should vote for the BJP and not for the Congress. But vote for leaders having good intentions and will to perform," he said.
The chief minister announced to donate Rs 10 lakhs from the Dorjee Khandu Trust as assistance for building an ashram in memory of Prem Bhai, and also assured to provide other assistance from the government for the purpose.
Environment & Forests Minister Nabam Rebia, APCC president Takam Sanjoy and former chief minister Nabam Tuki also attended the function. (CMO)