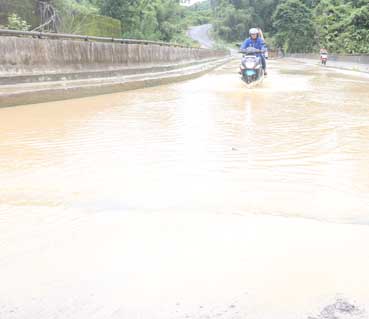 Satff reporter
JULLY, Jun 28: The residents of Chimpu and Jully areas have appealed for early maintenance work on the bridge over the Senki river here which connects the two villages.
The locals allege that due to lack of proper outlets, rainwater often stagnates under the bridge and turns the bridge into a "fish pond."
The accumulation of rainwater is reportedly causing damage to the abutment on both sides of bridge, and is threatening to damage the bridge itself.
"Before any untoward incident takes place, the authorities should immediately repair the bridge," a resident of Chimpu said.
After receiving several complaints, PWD Capital Division B Executive Engineer Tarh Gongkap on Thursday inspected the bridge.
He said both the endpoints of the bridge need minor repairs, and informed that he has directed his officers to take action.
The executive engineer along with other officials also inspected the Itanagar-Jully road. They found that a portion of the road near Donyi Colony has been washed away due to illegal earth-cutting.