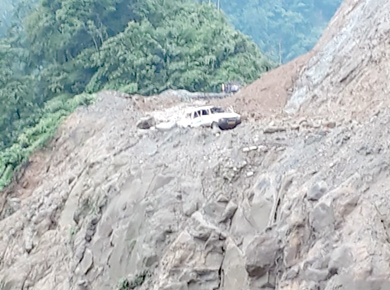 Staff Reporter
ITANAGAR, Jun 30: Three more people were reportedly crushed to death on Saturday at the same spot near Likabali in Lower Siang district where four personnel of the Indo-Tibetan Border Police (ITBP) were crushed to death by a landslide-triggered falling boulder on Friday.
Police sources informed that a white Tata Sumo carrying eight people, including the driver, was on its way from Aalo to Silapathar (Assam) when a large boulder fell on the vehicle, sometime between 2 and 3 pm, on the BRTF road between Likabali and Basar.
Two people died on the spot while one died on the way to the health facility in Likabali. Two of the deceased have been identified as Mozuhorol Islam and Dehe Kalita.
At the time of writing, one injured person was discharged and the rest are being treated at the health facility in Likabali for multiple fractures. They have been identified as Pradhan Arjun (25), Sanju Kuri (27), Bade Membom (25), Deepak Kumar (25), and Depak Kunar (25).
Sources informed that the construction company working on the stretch of the road had warned the Sumo's driver from crossing the stretch, but the driver drove ahead anyway, and a boulder came crashing on to the left side of the vehicle.
Lower Siang Deputy Commissioner (in-charge) M Karlo has meanwhile issued an order and closed down the road for four days (30 June to 3 July) to enable the work agency to clear the road and make it safe for pedestrians and vehicular movement.
Death toll rises
Meanwhile, one ITBP jawan among the eight injured in Friday's rock-fall near Likabali succumbed to his injuries on Saturday, raising the death toll to five, a police officer said.
Out of the eight injured, the condition of two personnel were critical, the officer said.
The two critically injured ITBP personnel were initially taken to the Army hospital in Likabali, and later referred to a hospital in Assam's Dibrugarh on Friday, Lower Siang SP Singjatla Singpho said, adding that one of them died there on Saturday morning.
The other six personnel with minor injuries were treated at the local community health centre, Singpho said.
Four ITBP personnel were killed when a huge boulder, loosened by monsoon rains, rolled down a mountain and hit their vehicle on the Basar-Akajan road on Friday.
The boulder rolled down the mountain slope and smashed the mini bus carrying 20 ITBP personnel.
The incident occurred at 2.30 pm, about 5 km from Likabali, when the personnel were on way to it from Basar. (With PTI inputs)