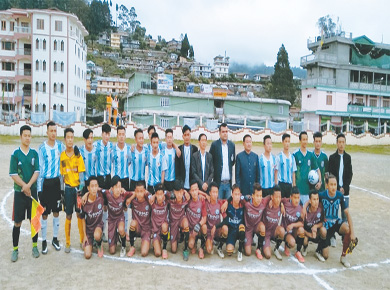 BOMDILA, Jul 1: Dreams XI won the Under-17 West Kameng district football tournament, beating Aka XI 4-3 in the final at Buddha Stadium here on Sunday.
Wanchu Khangriju of Dreams XI, who scored 14 goals, was declared man of the tournament.
Rigen Khunjuju of Dreams XI and Rinchin Khandu Singchaji of Rupa FC were declared the best player and the best goalkeeper, respectively. The disciplined team award went to Winning XI.
Besides the two finalists, Dirang FC, Winning XI, Namsu FC, Singchung FC, JNV FC, Rupa FC, Rising Hrusso, and Bulls FC participated in the tournament, which was organized by West Kameng District Football Association.
West Kameng SP Raja Banthia, former All Sajolang Elite Society (ASES) president Aju Khunjuju and ASES assistant general secretary Bony Sakrinsow attended the final day of the tournament.