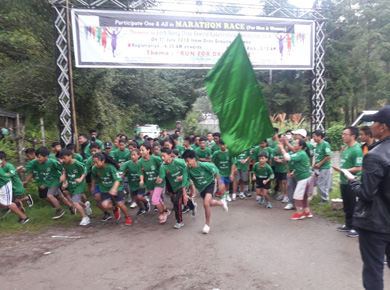 ZIRO, Jul 2: The Hong Dree Festival Celebration Committee organized a marathon race themed 'Run for drug free society' at Ziro on 30 June.
Habung Nyipa won the race in the men's category, followed by Dusu Hailyang and Koj Opo in second and third positions.
Nyipa took 46 minutes to finish the race while Hailyang and Opo took 47 minute and 48 minute, respectively.
In the women's section, Puna Ampi, Dusu Kampu and Hibu Yamang secured the first, second and third positions respectively.
Assistant professor and marathon enthusiast Dr Kago Gambo and his 10-year-old son Kago Mobin were among the 77 participants.
The race was flagged off by former ZPM Punyo Paya, who is also the chairman of the celebration committee.