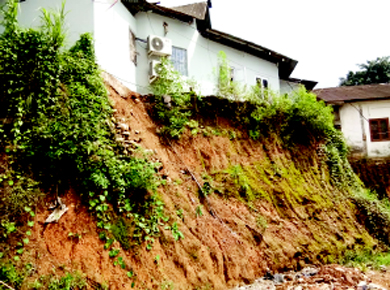 ITANAGAR, Jul 6: The office of the Arunachal Pradesh State Commission for Women (APSCW) at C Sector here is on the verge of collapse and is becoming a threat to life and property.
APSCW Vice Chairperson Padmeswari Jamoh and member Rosy Taba said the building is about to collapse because of the ongoing construction of the four-lane highway.
They expressed fear that something untoward may occur if precaution is not taken. They have appealed to the state government to temporally shift the office to another location and construct a new office with proper safety features.
Land Management Minister Nabam Rebia visited the office and assured to look into the matter. Capital Complex Deputy Commissioner (in-charge) Talom Dupok said he would visit the office and take necessary action.