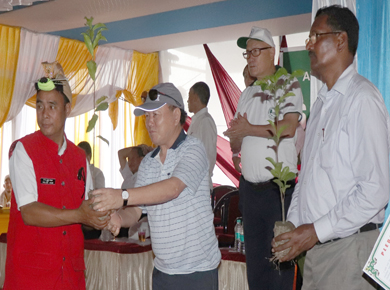 KOLA CAMP, Jul 7: Environment & Forests Minister Nabam Rebia warned that Arunachal Pradesh may soon face acute drinking water shortage as more than 200 rivers and nallahs across the state have dried up.
The catchment areas of many rivers are also under threat due to jhum cultivation, landslides and wanton destruction of forests, Rebia said while addressing a huge gathering here in Doimukh circle of Papum Pare district on the occasion of Vanmahotsava celebration on Saturday.
He said that the state's forest cover has also decreased from 82% to 79% due to wanton destruction of forests.
Expressing grave concern over the declining forest cover and wildlife species, the minister said the state government is contemplating a statewide ban on hunting and killing of wildlife.
"There is an urgent need to save the wildlife and forests for our survival," he said.
Rebia urged the gaon burahs (GBs) to create awareness among the villagers about the ill effects of global warming caused by deforestation.
"The GBs should inform the administration if anybody is found destroying forests and killing wildlife, so that appropriate action can be initiated against the wrongdoers, including cancellation of their arms licence," he said.
Lauding the efforts of the Hyer Habia Catchment Area Welfare Committee (HHCAWC) of Midpu to preserve and protect the catchment areas, Rebia urged the village elders, former panchayat members and GBs to form 'van rakshak committees' in all the villages for preservation and protection of forests and wildlife.
"Environment should not be an obstacle to development but both must go hand in hand," he said.
Principal Chief Conservator of Forests (PCCF) M Surya Prakash sought public cooperation in the effort to conserve forests and wildlife.
Doimukh SDO Ibom Tao highlighted issues related to deforestation, as well as the means for conservation and protection of flora and fauna. DCF T Gapak and Pakke Tiger Reserve DFO Tana Tapi DFO also spoke on protection of forest and wildlife.
Banderedwa DFO Neelan Nedo highlighted the plantation drive being carried out under his jurisdiction for the last one month.
He said that around 5000 saplings have been distributed among the locals and GBs, apart of the regular plantation programme. He also informed that 12,000 plantation programmes have been taken up in Doimukh area alone.
Earlier in the morning, more than 500 people, including students of various schools and officials of the environment & forests department and the local administration participated in a tree plantation drive during which more than 1000 trees were planted along the roadsides from Chiputa to Kola Camp.
Later, 100 saplings were distributed among the GBs of different villages of Lekha, Chiputa, Mani and Tigdo panchayats.