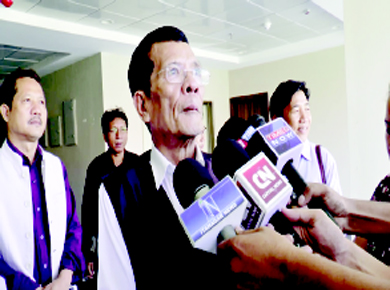 PPA says fed up of being treated as parking lot
Staff Reporter
ITANAGAR, Jul 16: Seven out of the nine MLAs from the Peoples' Party of Arunachal (PPA) shifted their loyalty to the Meghalaya-based National People's Party (NPP) and met Deputy Speaker Tumke Bagra at the state assembly here on Monday to inform about their change of party.
The seven MLAs, Tanga Byaling (Nacho), Rajesh Tacho (Anini), Nikh Kamin (Bordumsa), Tapang Taloh (Pangin), Mutchu Mithi (Roing), Tirong Aboh (Khonsa) and Dikto Yekar (Daporijo) had joined the NPP on 12 July in Meghalaya, in the presence of NPP chief Conrad Sangma.
Speaking to the media soon after meeting the deputy speaker, state NPP president Gicho Kabak said the NPP will enter into a post-poll alliance with the BJP-led government under Chief Minister Pema Khandu.
The official announcement of the merger of the MLAs will be prepared under the North East Democratic Alliance (NEDA), which is chaired by Himanta Biswa Sarma.
NPP vice-president and spokesperson Nima Sange said since the NPP is already in alliance with the NEDA, the joining of the seven MLAs would automatically fall under the guidance of the BJP government in the state.
"The party will not project any candidate of the NPP as chief minister but will focus on a common representative, which will be Pema Khandu," he said.
The party also said that around 47 candidates are in the queue to come under the NPP.
Meanwhile, PPA president Kahfa Bengia told this daily that the party was not upset with its former MLAs but was "fed up of being treated as a parking lot."
He said the MLAs did not specify reasons for changing parties, but opined that the MLAs were most probably "looking for their survival.
"Observing the current political scenario, this might even be a blessing in disguise," Bengia said.
On whether there are any chances of MLAs Markio Tado and Takam Pario also shifting their loyalty, Bengia said the PPA is certain that they would stay with the party.