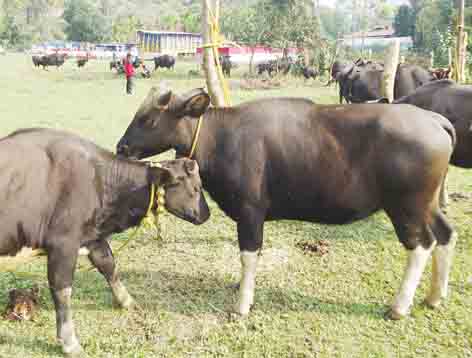 [Prafulla Kaman]
PASIGHAT, Jul 17: Reports of deaths of a large number of mithuns are pouring in from the hilly areas of East Siang and Lower Siang districts.
According to a report, mithuns roaming in the hilly jungles of Koyu-Korang area are infected with foot & mouth disease (FMD), leading to their death.
At least 15 mithuns and ten cows have reportedly died so far, while a large number of cattle have fallen sick with FMD in remote Sipu, Sido, Lipin, Korang, Maane and Kakki villages in the past few days.
The lone veterinary doctor in Koyu headquarters is trying his best to control the epidemic, but is facing problems due to lack of medicines and shortage of manpower. The disease is reportedly spreading rampantly in the area.
"Massive death of livestock caused by FMD is causing great concern among the rural farmers who survive on agriculture and animal rearing. We are demanding that the state veterinary directorate send a team of officials to study the case and control the epidemic," said public leader of Nari-Koyu constituency, Rari Riba.
FMD infection in reared mithuns and other domestic cattle has also been reported from Mebo-Siluk area in East Siang district. The Silukian Welfare Kebang has requested the veterinary department to take early remedial measures to protect the livestock and prevent the spread of FMD to new areas.
This is not the first time that FMD has come to the hill state. An epidemic of FMD had occurred in 57 villages in the state between 1994 and 1995, infecting 6,237 mithuns and killing over 800 animals. The strain of FMD which caused the earlier epidemic in Arunachal Pradesh was identified as Asia1 virus serotype.
'Dept making efforts to control outbreak'
Meanwhile, the animal husbandry, veterinary & dairy development (AHV&DD) department informed in a press release that it is making all-out efforts to contain the FMD outbreak in Siluk village in East Siang district.
AHV&DD Minister Mohesh Chai and Secretary Bidol Tayeng are monitoring the situation, it said.
The East Siang district veterinary officer (DVO) has "engaged all manpower and workforce along with proper medicines and logistics on a war footing to tackle the recent outbreak of FMD," the department said.
It said the outbreak has affected about 300 cattle which had not been vaccinated.
"Despite the department's effort to cover the animals in the area by vaccination during pre-monsoon vaccination programme, the same could not be carried out due to lack of cooperation by villagers," the department claimed.
It informed that a team of doctors led by DVO Dr J Panor is currently camping in the affected villages and providing veterinary aid to the affected livestock and collecting necessary samples to determine the types of virus involved in the outbreak.
An awareness camp is also being planned to educate the villagers regarding the menace of FMD, it said.