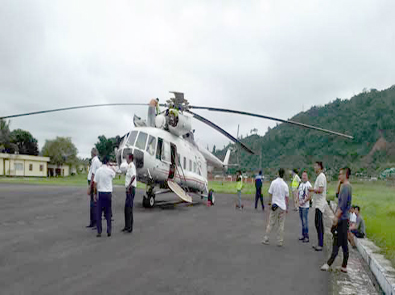 [ Manoj Singh ]
NAHARLAGUN, Jul 18: Twenty-two passengers travelling by the Skyone Airline helicopter service from Naharlagun to Guwahati on Tuesday were stranded here at the helipad for over four hours, causing many to miss their connecting flights from Guwahati.
The Skyone helicopter VTJJA was supposed to take off from Naharlagun helipad at around 8.30 AM. However, officials of the civil aviation later informed that due to bad weather, the chopper would not fly and asked passengers to wait more some more time.
Again at around 10 AM, the same information was received and passengers were asked to wait for another 40 minutes.
"At around 12.10 PM, passengers were asked to board the flight, and all the 22 passengers boarded. The helicopter engine also started, but after two minutes, the pilot informed that the helicopter has developed technical defect and will take around 30 minutes for repair.
However, the authorities could not repair chopper on time and it was replaced with another," said a passenger.
Irked by the poor management of the Skyone helicopter service, some of the passengers cancelled their tickets and went back.
One Passenger Tadar Akap said, "The officials posted in helipad are not of any help and hardly care about issues concerning the passengers. The government should look into it."
Another passenger, Maga Saketer said "I was supposed to catch a flight to Kolkata from Guwahati and the delay has disrupted the entire schedule. The negligent behaviour of the authorities of civil aviation and Skyone helicopter was not helpful."
The passengers have urged the civil aviation department and the government to improve safety, security and convenience of the passenger at the lone civil helipad of the state capital.