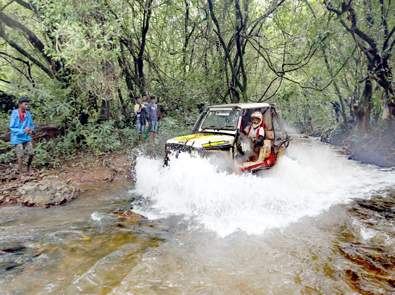 QUEPEM (Goa), Jul 27: Chow Ujjal Namshum and co-driver Inpeng Mein from Arunachal Pradesh ended Day 5 of the country's toughest international off-road motorsport competition, the Isuzu RFC India, 2018, at the fifth position with 1324 points.
At the time of the announcement of the provisional results for Special Stages 18 to 21, veteran rallyist Jagat Nanjappa (co-driver Chetan Changappa) of Coorg, Karnataka, retained his position at the top of the leader board with 1614 points out of 2100.
RFC India debutant Ujjal, who is looking to solidify his position at the points table, said, "I had no prior expectations whatsoever before the start of the competition. So, I was happy when I was at the third position, I was happy at sixth and now I am happy being at the fifth position too. However, I will try to put more effort to climb up a few more spots."
Ujjal added, "We have travelled over 4,000 kms to participate in this event and we certainly want to go back with some sort of an accolade. One of our squad's team is already out of the competition. So my team is hoping for me to be on the podium. However, I ask them to keep their calm and just wish me well. In return I promise that I will try to do my job to the best of my capabilities."
Ujjal and co-driver Mein are representing Arunachal Pradesh' Team MOCA at the competition. This is Northeast India's first ever participation at RFC India.
Defending champion Gurmeet Virdi (co-driver Kirpal Singh Tung) from Chandigarh, who secured the second spot in the competition for the first time on Thursday, also held on to his position in the points table with 1490 points.
Malaysian driver Mervyn Lim (co-driver Alex Tan), who is driving for Team GOA Fairmont, climbed one spot up to claim the third position with 1411 points.
Chandigarh's Sanbir Singh Dhaliwal (co-driver Gurpartap Singh Sandhu) is at the fourth position with 1366 points.
The next set of stages, from SS 22 to SS 25, will be held on Saturday at the same location at the Green Hills Agri Farm in Maina, Quepem, after which the competition will move to the Rajiv Gandhi IT Habitat in Dona Paula on 28 July for the final stage and the announcement of the Isuzu RFC India 2018 champion.