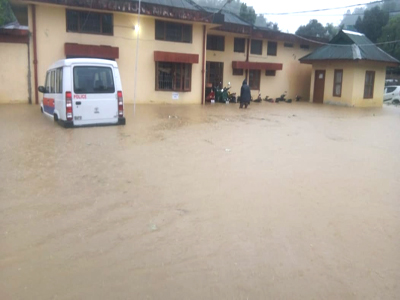 Staff Reporter
ITANAGAR, Jul 30: Following the heavy downpour on Sunday night, some parts of Nirjuli town have once again been inundated, with the police station (PS) there suffering the worst of it.
Vehicles parked at the police station, including motorcycles, could be seen half-submerged in water.
Capital SP M Harsha Vardhan informed that this is the fourth instance of the police station being flooded in monsoon.
"The jawans have been asked to remain alert, and files have been saved. Other than the flooding, nothing much was damaged," the SP said.
He said the authority concerned has been made aware of the situation, and that it is working to address it.
Later reports indicated that the floodwater had gradually receded by afternoon.
Meanwhile, this daily has been informed that Governor BD Mishra had convened a joint meeting last year with Deputy Chief Minister Chowna Mein, the capital complex deputy commissioner, and representatives from the NERIST and the highway department, after his visit to the NERIST assess its drainage situation.
During the meeting, the governor had asked the DCM to place fund for drainage management in the NERIST, to which Mein had agreed in principle.
A joint inspection was later carried out by a team comprising the DC and representatives of the NERIST and the highway department. The inspection team recommended de-silting the drainage upto the Dikrong river, and three culverts were proposed to be built between the police station and the NERIST gate, to ensure uninterrupted passage of floodwater.
It is learnt that the highway department prepared the detailed project report for the culverts and submitted it to the authority concerned for sanctioning. The department is still awaiting sanctioning of the project.