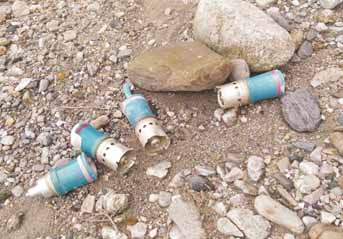 Staff Reporter
ITANAGAR, Aug 9: A man identified as Bapianglum Tailu (51) reportedly died after an unexploded mortar exploded in the Indian Army's Ballaliang firing range near Loiliang village here on Thursday.
It is believed that the deceased might have unknowingly stepped on one of the misfired mortars that lay strewn near the stream inside the Indian Army's firing range.
Police in Tezu informed that Tailu was going to his agriculture field along with his son Jinikso Tailu (18) when the incident occurred at around 4 pm.
"They were going to their agriculture field after crossing the stream near Loiliang village when the incident occurred," said Lohit SP Dorjee Wangdi Thongon.
"As per report, Jinik Tailu heard the sound of explosion, and found his father lying in a pool of blood," the SP said.
He informed that the deceased sustained multiple injuries, including head injuries near the right eye, leading to his death on the spot, while the son sustained minor injuries in his right hand.
The police have registered an unnatural death case,and the matter is under investigation, the SP added.
It is reported that a similar incident had occurred in April 2014 when a 13-year-old boy was found dead near the firing range. It was believed that the boy stepped on unexploded mortar and was killed on the spot.
Residents of the area said so far seven people have lost their lives inside the firing range over the past two decades.
Sources said that the Indian Army's 82nd Mountain Brigade has been on a weeklong heavy mortar firing exercise in the area. Though the army issued a standing prohibitory notice against civilian movement near the firing range, their negligence has apparently been exposed as there is reportedly no fencing around the firing range.
It is also reported that the Indian Army often leaves misfired mortars and other explosive devices in the firing range without defusing them.
The residents said the firing range is just 100 metres away from Gairi village, with his largely inhabited by people of Nepali origin.
The people reportedly submitted representations to the district administration on several occasions,seeking relocation of the firing zone as it is close to civilian-inhabited areas. However, their efforts havenot yielded any result so far.