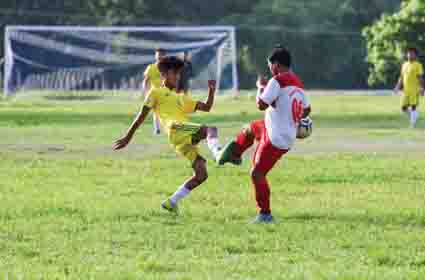 Staff Reporter
CHIMPU, Aug 9: Gumin Botte FC could not stop Banggo United FC's (BUFC) lethal attack as they conceded eight goals in the Itanagar Solung Festival Football Tournament at the AAPBn Ground here on Thursday.
BUFC entirely dominated the match from the beginning and Galat Jiji scored the first goal for the team in the second minute (1-0). Akar Hanggo netted the second goal for BUFC in the eighth minute (2-0). Galat Jiji stormed again and scored 3 goals in the 25th, 30th and 52nd minutes, taking the lead to 5-0.
Toni Saroh and Kobit Taki did more damage to Gumin Botte FC by adding two more goals in the 57th and 63rd minutes, taking the lead to 7-0.
Akar Hanggo scored his second goal in the 67th minute to crush Gumin Botte FC 8-0.
Galat Jiji was adjudged 'player of the match'.
In another match, Naharlagun Solung FC (NSFC) drubbed Todi Yaming FC by 3-0. Ojing Pada of NSFC was adjudged 'player of the match'.