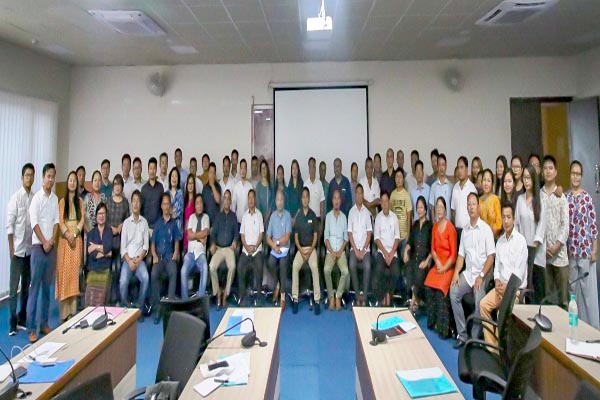 ITANAGAR, Aug 22: Secretary Rural Development, Panchayati Raj and Department of Tirap, Changlang and Longding, Rinchin Tashi said that "convergence of efforts between Mahatma Gandhi National Rural Employment Guarantee Scheme (MG NREGA) and Deendayal Antyodaya Yojana National Rural Livelihoods Mission (DAY NRLM) across all development programmes is the best method to address issues arising out of resource crunch across most of the development programmes in Arunachal Pradesh".
He said this during an Arunachal State Rural Livelihoods Mission and Department of Rural Development conducted programme on convergence between MG NREGA and DAY NRLM in the state, which was held at the Pare Hall of the Dorjee Khandu Convention Centre, here on Wednesday.
Tashi said that while all the 29 subjects listed in the 11th schedule have been devolved to PRIs in Arunachal Pradesh, convergence is the best method to address various issues pertaining to development programmes.
"It can ensure diversification of livelihoods, sustainable increase in incomes, all leading to poor households coming out of poverty in a time bound manner," he said, adding "the Government of India is also emphasising on realigning the process of planning, implementation and monitoring of development programmes under the ambit of Rural Development and Panchayati Raj in Arunachal Pradesh".
He also called upon all officials to adhere to concerned norms and keep an open mind for innovation, hard work and ensure that development goals are met.
Special Secretary (RD & PR) informed that GoI shall be emphasising on convergent planning at the Gram Panchayat level from 2 October, 2018 onwards through the Gram Panchayat Development Plan (GPDP).
He said that the departments of Panchayati Raj, Rural Development and the ArSRLM shall be leading the efforts from the state level under the rural development domain.
He mentioned that over a period of time, GPDPs (also known as My Village My Development Plan in Arunachal Pradesh) shall become the base document that articulates development needs across all programmes.
He also called for a change of mindset among officials and expressed the need for increasing cooperation amongst all officials of all departments from the sub-block to the state level.
Officials from the Rural Development, Panchayati Raj, Rural Development, MG NREGA MIS under DAY NRLM, ArSRLM and others attended the programme.