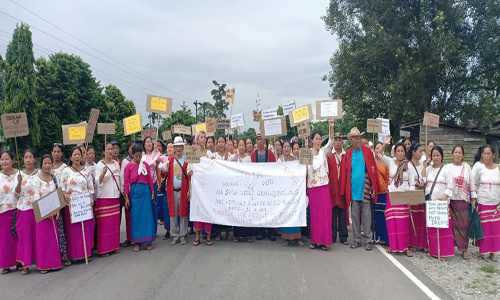 [ Karyir Riba ]
ROING, Aug 22: Over 150 people participated in an anti-drugs awareness rally cum campaign, held with the theme 'United we stand to fight against drugs', here on Wednesday.
The programme was organised by 12 self help groups from seven Bolung and Ithili-Idili blocks, along with two primary level federations (PLF) – Mingebona and Midum.
The participants in the rally, including women and gaon burahs with placards marched on the thoroughfare of the town and shouted slogans against use of drugs. They also distributed pamphlets and posters against the use of drugs and its bad effects.
During the campaign, they urged shopkeepers and shop owners to refrain from selling illicit liquor and other addictive items and warned them of strict action.
A PLF president, Ayam Langkam said the whole programme is mainly for creating awareness among the young generation about the harmful effects of drug.
"Many youth and school-going children are spoiling their life by using drugs and alcohol. There is an urgent need to stop this and bring change in the society", said Langkam and appealed to the people of the district to come forward in support of their campaign.
Appreciating the SHGs for organising the awareness campaign, gaon burahs and other elders of the area appealed to the people not to use alcohol and drugs.
They urged the youth to take care of their health and take up physical activities instead of using drugs and alcohol.