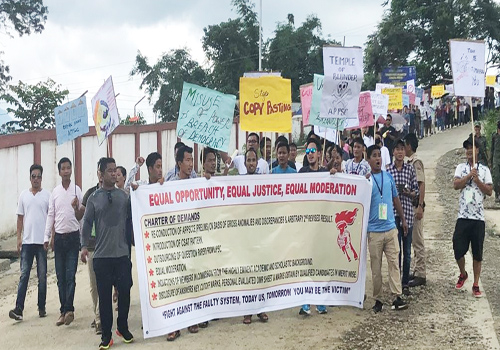 Staff Reporter
ITANAGAR, Aug 24: Claiming that gross anomalies were found in the question papers of the recently-held Arunachal Pradesh Public Service Combined Competitive Examination (APPSCCE), hundreds of aspirants staged a peaceful protest at the tennis court near IG Park here on Friday, demanding that the exam be re-conducted.
The aggrieved aspirants marched from Mithun Gate, shouting slogans against the Arunachal Pradesh Public Service Commission (APPSC), before gathering at the tennis court.
"The commission cannot give a lame excuse, saying it was human error; we want the reason for the human error and want to see the cut-off marks of all the candidates," said Kara Rainso, speaking on behalf of the aspirants.
"The commission is repeatedly committing the same mistake. This is not done, and this is injustice," he added, and demanded that the APPSC re-conduct the exam.
Rainso, however, clarified that their protest was not against those who cleared the prelims, but against the repeated anomalies in the APPSCCE.
The aspirants also demanded "one syllabus for one examination," and claimed that "the problem of unjust moderation occurs repeatedly."
Their demands also include introduction of CSAT pattern, outsourcing of question papers from the UPSC, equal moderation, etc. They also demanded that the staff involved in the technical and human errors be terminated from their jobs.
The protesting aspirants also questioned the standard of the question papers, and claimed that several optional questions were from outside the syllabus. They said they would submit a representation to the APPSC chairman, and subsequently to the governor and the chief minister.
Failure to address their demands would invite litigation against the commission, they said.
Meanwhile, APPSC Secretary Taru Talo stated that the re-evaluation of the papers of the 76 candidates who had taken the Geography C-Series question set was based on the report of the six-member committee which detected the errors.
He said the commission "has accepted that the error occurred in the Geography C-Series, and is striving to bring in reforms," so that such errors do not recur.